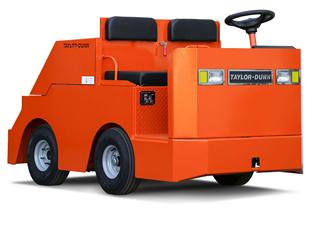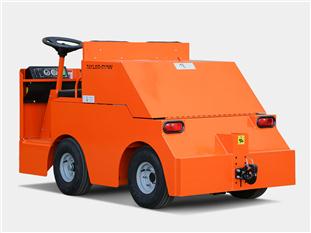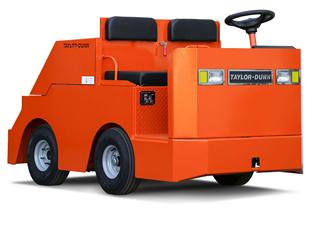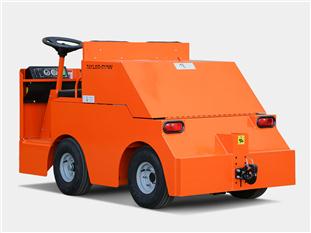 Description
The Taylor-Dunn C-420 electric tow tractor is a material handling solution that provides maneuverability, ruggedness, and reliability.
Model
C-420
Type
Electric
Speed
8 mph (12.8 km/h)
Range
20 miles (32 km)
Load Capacity
N/A
Tow Capacity
DBP: 400 – 2,000 lbs. Towing Capacity: 20,000 lbs. (9,090 kg)
People
2
Description
The C-420's ruggedness begins with its all welded steel construction incorporating 1/4″ thick panels riding on a leaf spring suspension. The power traction, oil bath chain, transmission with automotive differential, standard 4-wheel hydraulic brakes, and pneumatic tires make sure the C-420 will start, stop, and ride with ease. Equipped with DC Series wound motors, solid state speed controllers and accelerator modules, the C-420 offers reliability and value in a tractor that can tow up to 20,000 lbs. at speeds of 8 mph. Maneuverability is achieved with a compact design incorporating a short wheel base and a 24:1 gear reduced automotive steering system, which allows for operation within tight quarters.
Options
Charger
– 60 amp, 36 volts
Battery
– 425-680 amp-hour, 36 volts
Hitches
– Pintle hitch
– Automatic coupling hitch
– Remote hitch release
Accessories
– Windshield wipers
– Mirrors
– Turn signals
– Hour meter
– Reverse warning buzzer
Cab
– Steel cab
– Steel or vinyl doors
Tires
– 5.70×8 split rim, load range C
– 18 X 5 X 12 1/8 solid cushion
Performance
Speed
8 mph (12.8 km/h)
Range
20 miles (32 km)
Tow Capacity
DBP: 400 – 2,000 lbs. Towing Capacity: 20,000 lbs. (9,090 kg)
Passengers
2
Dimensions
Weight
2,000 lbs. (907 kg.) Less charger and batteries
Length
84.5″ (214.6cm)
Width
44.25″ (112.3cm)
Height
Less Cab: 49.5″ (125.7cm) With Cab: 75″ (190.5cm)
Hitch Height
11″ (27.9cm)
Outside Turn Radius
100″ (253.8cm)
Wheel Base
36.5″ (92.7cm)
Deck
Width: N/A Length: N/A Height: N/A
Chassis
Interior