What is Motive Power Technology?
Not all forklift power solutions are the same. From traditional lead-acid and internal combustion engine power sources to advanced solutions including lithium-ion and hydrogen fuel cells – our team at LiftOne can help objectively evaluate your operational needs to determine which source will give you the best performance.
Today's advanced motive power technology features power sources that can reduce downtime and last three times longer than traditional industrial batteries. Additionally, by implementing fuel-efficient material handling equipment you can reduce your facility's emissions and free-up valuable work space.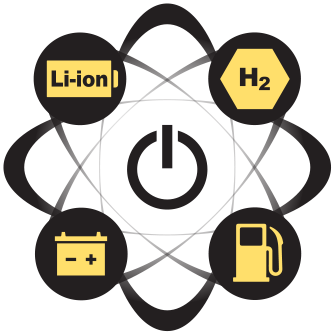 LiftOne's motive power solutions optimize your power at the source, improving efficiency. For example, lithium-ion batteries and hydrogen fuel cells can revolutionize your forklift's power. Both options can last so long that they potentially could outlive the trucks they fuel.
Optimize your power source to:
Create opportunities for higher throughput
Slash operational costs without sacrificing performance
Maximize profit margins
Solve labor shortages and cut labor costs
Use workspaces more efficiently
Comply with your company's sustainability goals
Our sales team will help you navigate and choose the right power source, which includes considering the size of your fleet, the number of shifts that will use your equipment, utility prices, your space requirements and operator discipline.
Benefits of Motive Power for Your Fleet
Using the right power source has several advantages for your fleet -- faster daily operations, higher productivity and power, reduced emissions and less maintenance.

Lithium-Ion Battery
Minimal maintenance
Consistent power delivery
Broad temperature range performance
Quick opportunity charging

Hydrogen Fuel Cell
Consistent power delivery
Minimal facility footprint
Refuels as quickly as 3 minutes
Zero harmful emissions

Lead Acid Battery
Low acquisition cost
Wide-ranging applications
Time-tested technology

Internal Combustion Engine
Exceptional durability
Consistent power delivery
No electrical grid dependency
Conventional lead-acid batteries take valuable time to refill and require frequent maintenance including watering and equalizing. Lithium-ion batteries drastically reduce battery charging time with quick opportunity charging. Additionally, lithium-ion requires minimal maintenance with a significantly longer lifecycle than lead-acid.
Operators enjoy having full power until the cell is empty. When a hydrogen fuel cell empties, you can refill it in just three minutes with a hydrogen fueling system. This system takes up little space in your facility. Plus, various fuel delivery configurations and on-site generation systems exist to meet your fuel needs.
At LiftOne, we offer a valuable partnership to each client to help you determine what you need. Select motive power through LiftOne for:
A wide range of solutions. We carry quality, fuel-efficient power solutions from a variety of brands and tailor solutions best for your operations.
Greater expertise. LiftOne associates are experienced and highly trained professionals. Our clients enjoy the best advice and services in the industry.
Streamlined services. Minimize downtime with maintenance from LiftOne technicians.
Contact LiftOne to Learn More
LiftOne forms a partnership with each of our clients. Our relationships are built on more than the quality of our products — we offer technical expertise and stellar service before, during and after you upgrade your fleet.
Connect with our team for more information about motive power solutions for long-lasting industrial equipment. Visit us in-person by finding a LiftOne location near you. You can also contact us by filling out our online form or calling 855.543.8663.