Collect data remotely with wireless telemetry technology, including Hyster Tracker and Yale Vision. Our telemetry tools also identify issues within your fleet, track planned maintenance and provide insight about lowering operating costs. Upgrades give you access to features such as impact monitoring and paperless OSHA compliance checklists.
Additional benefits of telemetry include:
Instant replays of impacts and activity tracking to encourage fewer accidents and less misuse
Safer operations that create less damage to your company's products and equipment
Customized reports created on demand with adjustable settings for key performance indicators (KPIs)
Versatile technology compatible with your entire fleet
Automated management of your fleet for constant supervision
Convenient access to operation analysis and tailored alerts through tracking apps
Delve deeper into your fleet's activity with three different levels of telemetry management technology. Note that each tier includes all features accessible through lower tiers. Choose the level of telemetry that best matches your needs:
We recommend this level for clients who just want to supervise the use of their equipment. Wireless monitoring lets you use diagnostic codes and impact tracking, which assigns an operator's information to impact incidents and offers an instant replay of the collision.
Clients who choose wireless access use proximity card readers to promote safe operation and proper equipment use. This monitoring technology connects the data it collects to each operator, pinpointing misuse, inefficiency and unsafe operations.
Ensure your compliance with Occupational Safety and Health Administration (OSHA) regulations through paperless OSHA checklist management. This clarifies industry standards and reduces the number of administrative costs your company sustains.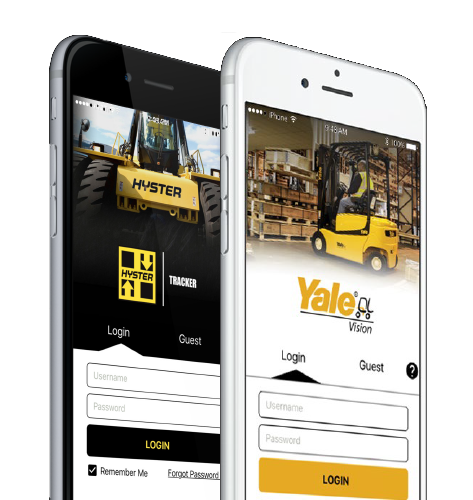 Benefits of Telemetry for Your Fleet
Full visibility of your fleet lets you identify misuse, utilization and inefficiency on your job site. Fleet tracking systems also offer detailed reports of fleet activity during daily operations.
With telemetry, you can enjoy a host of benefits while taking advantage of real-time data collection. At LiftOne, we have different levels of telemetry management available and will work with you to determine how to best install integrate telemetry with your new and existing equipment.
Hyster Battery Tracker & Yale Battery Vision

Water Level
Encourages proper watering of your batteries by reporting electrolytes at high and low levels

24/7 Monitoring
Utilizing existing wireless networks to transmit data to the cloud-based Yale Vision portal

Smart Charging
Delivers analytical data such as state of charge, voltage current, and battery temperature to improve battery care and charging behavior

Warranty Compliance
Stores data for the life of the battery and provides complete history to comply with your battery warranty
Hyster Battery Tracker and Yale Battery Vision is a fleet management solution that provides valuable insights to better care for your batteries and maximizes their performance and life. Utilizing existing wireless networks, the battery tracker monitors usage, alerts users of potential battery issues, and transforms your facility's vehicles into an intelligent fleet operation.
How Telemetry is Installed
Installation differs between Hyster and Yale equipment and other brands. New trucks from the brands can arrive complete with wireless telemetry technology — a compact, rugged module. Clients who opt to integrate fleet tracking technology with your company's existing fleet can contact the team at LiftOne for help. An experienced LiftOne technician will install telemetry onto your equipment at your facility.
At LiftOne, we know that our responsibilities go beyond the quality of the installation. That's why we deliver on-site training on how to use the app's interface and customize it for your use.
Why Choose Telemetry Technology From LiftOne?
The Hyster Track and Yale Vision technology will help you save time and help diminish operating costs. Promote safety in your warehouse by reducing avoidable damages and injuries. With tools like fleet tracking, GPS and fault coding tracking you will be able to manage your operations unlike before.
Start optimizing your fleet today by connecting with us about telemetry technology. Contact us online or by phone at 855.543.8663 for more information. You can also visit us in person after finding a location near you.