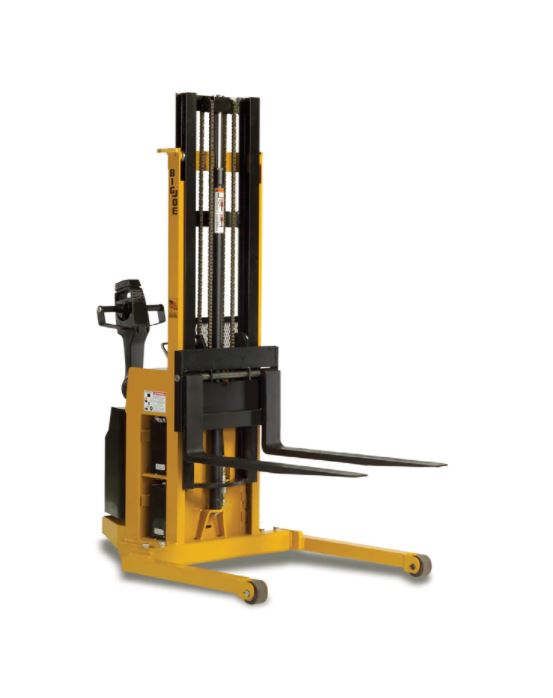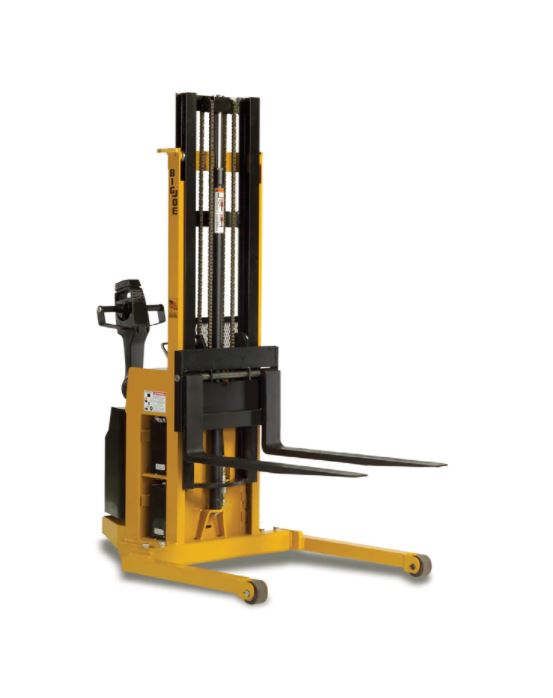 Our family of "walkie" straddle trucks can accomplish a wide variety of material handling and work positioning tasks. These versatile vehicles provide a great alternative to sit down forklifts in many applications at a greatly reduced cost.
In addition, because of their compact design these stackers can operate in very tight environments and can be used to facilitate ergonomic work positioning to reduce on the job injuries and enhance productivity. The basic high quality construction of our straddle stackers includes components that make use easy and maintenance rare.
If you're looking for a material handling vehicle that is rugged and that can accomplish a variety of tasks choose one of our Big Joe straddle stackers.
• 2,000 to 4,000lb. Capacity depending on vehicle configuration
• 24volt Curtis transistor control which provides smooth safe operation.
• Premium steel frame construction protects components and reduces maintenance.
• Premium steel mast construction provides extended service life and load stability.
• Compact vehicle design provides exceptional maneuverability in tight areas.
• Control arm coupled driveline provides intuitive and direct operator control.
• Shaft mounted disc brake provides exceptional stopping force and safe operation.
• Hard chrome lift cylinder with pressure compensation lowering valves.
• Ergonomic handle with reversing switch, horn and wrap around hand guard.
• A wide variety of vehicle options to meet your specific application needs.
• Optional add on attachments designed for a variety of special industry applications.
• Key switch to limit access to approved personnel
Vehicle Type: Walk behind straddle trucks
Capacity: 2,000lbs. to 4,000lbs. @ 24" load center
Power: 12 or 24 volt electric with Curtis transistor control
Max Lift Height: Masts available up to 144"/154"/168"
Battery Capacity: Up to 510 AH available on PDX30 and PDX40
Charger: External required on PDX30 and PDX40 PDX20 comes with standard internal charger