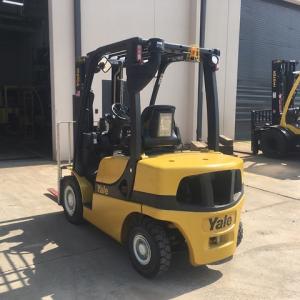 The forklift experts at LiftOne have put together a basic set of guidelines to follow when inspecting used forklifts for sale. Below you'll find sound advice for buying used forklifts and a LiftOne location near you. Our aim is to help you purchase a quality forklift that will last, and prevent you from incurring unnecessary costs on forklift maintenance or replacement in the future.
Jump to Sections:
Step One: Research
When purchasing a used lift truck, It's a good idea to know what you're getting into from the start. Doing your research before you buy will save you headaches, money and time in the long run. Thorough research also keeps you "in the know" about everything from market values, to current availability, to what type of forklift you really need. If you're entirely new to forklifts, start by familiarizing yourself with the terminology and jargon of the forklift world. If you're a seasoned pro, take the following into honest consideration in your research.
What are your requirements? First determine what you want, then draw up a detailed list of what you need in a used forklift. Be sure to include the load capacity and fuel type you will need for your intended application and surface type.
Do you know your area? Whether you're hunting for used forklifts in Nashville, TN or used forklifts in South Carolina, knowing which sellers you can trust and which pricing is right for your particular region is essential.
Do you know where and how to search? If you already know what brand you want to buy, contacting your local authorized dealer is probably your best bet. Many authorized dealers like LiftOne have certified mechanics service the equipment before selling to ensure it's in top conditions; and some even offer warranties for a period of time. Be sure to confirm the truck's service history with the dealer since they've had the lift; as well as, the details of their warranty, if offered.
Have you made any phone calls? Used equipment inventory is always changing. If you don't see what you are looking for on your local dealer's website, call them! They will be able to answer any questions you have about the used forklifts they have for sale, let you know about any that have just come in and haven't made it to the website yet, or help steer you in the right direction if you aren't sure what you need.
Step Two: Inspect
Now that you've completed step one, it's time to get out in the field and inspect! Use the following points as a guideline for visually inspecting key components of a used forklift for sale and come away a lift truck that fits your budget and needs.
Forks and Mast
Face the front of the forklift, checking the forks for any cracks, bends, or other major imperfections. While minor bends might only call for a straightening of the forks, cracks are what you want to watch out for, as they can make lifting at full capacity unsafe.
Inspect the mast for any cracks or welds, while also ensuring the mast pins, and the tilt and side-shift cylinders, are secure and not leaking.
Mast Rails, Lift Chains, and Cylinders
Inspect the mast rollers and look at the mast rails, checking for any cracks, welds, or excessive wear that might compromise the structural integrity of either. Take note of any damaged or missing links or anchor pins in the lift chains, as well as any sign of leaking hydraulic fluid from the hoses running parallel to the chains.
Other Key Features
Continue with your inspection, being certain not to overlook the integrity of any of the following:
 Frame
 Cowling
 Canopy
 Cab
 Engine Compartment
 Exhaust Guard
 Counterweights
 General Operational Ability
For more information about used forklifts for sale in North Carolina, South Carolina, Georgia, Alabama and Tennessee, contact the experts at LiftOne today.