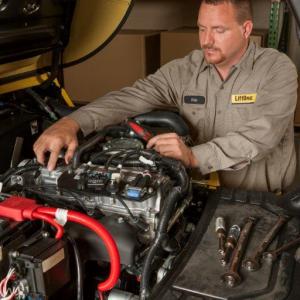 We recently sat down with some of our most experienced mechanics to ask them in-depth questions about our products and services. Here's what they had to say in response to common questions:
What are warning signs that a piece of equipment — a forklift or an aerial lift, for instance — needs to be serviced? Answer: When you hear noises like squeaking, grinding, or an engine that doesn't sound smooth, those are a few good examples that forklift maintenance is required. Other obvious warning signs include leaks and warning lights.If you can tell that something is wrong with your equipment, but you aren't sure what the specific problem is or how to fix it, give us a call. We can help diagnose the issue and provide a quote on how much it will cost to repair.
If I purchase a forklift and bring it in for routine maintenance, how long should I expect it to last? Answer: It should last for approximately 250 hours, but it depends on what type of application it's running for. For instance, an A/B Electric Forklift can go up to 500 hours between routineforklift maintenance. Also, it depends on what kind of conditions the equipment is being operated in. Outdoor use is much harder on the equipment than indoor applications. Furthermore, dusty, dirty, harsh, and/or wet applications mean more frequent maintenance might be needed.The benefit of working with LiftOne is when one of our customers needs service, they typically don't bring the machinery in to us — we go out to them. Our fleet customers come to us when they need maintenance, and we encourage all of our customers to take advantage of our essential maintenance services.
If my forklift breaks down, how do I know if the problem is a simple fix or a costly repair? Answer: The evaluation of the problem takes 1-2 days (including the quote, but not including the approval of the quote). Most of the time, if we have the parts, the fix takes around 72 hours. If parts need to be ordered, it can take more time. That's why it's important to start the conversation early so we can ask the right questions and get the right technician and part to fix the problem quickly.
When uptime is critical and a piece of equipment is down for days or even weeks, what alternatives are there? Answer: For major repairs that may take multiple days, LiftOne can help customers keep their operations running smoothly with rentals. With no additional downtime, equipment rentals allow you to keep working, even when there's a need for a repair.Our technicians really focus on being our customers' trusted partner. That means finding a holistic solution to their problems. So if they call for service but the problem is too large to meet their business need, we can shift gears. Because LiftOne if full service, we can help with alternatives like rentals, new and used equipment, and training, in addition to service. The pride we take in our technicians and training is obvious. We invest significantly to ensure that our technicians are prepared to meet the needs and demands of the marketplace.
What makes LiftOne service and maintenance different? Answer: Our customers perceive our company by our technicians – it's who they interact with the most and how they form their opinions of LiftOne. It's why we pride ourselves on our high employee retention rates that allow our technicians to build long-term relationships with our customer. This continuity allows us to establish the partnership LiftOne strives to build each day. Our techs consistently deliver exceptional service, due in part to:

Our belief in over-communicating with our customers
Our strong troubleshooting capabilities
The experience of our technicians and staff
Our incredibly fast response times — 90% of our calls are taken care of same day
For more information on our equipment, services, and fleet maintenance solutions, contact us today at our LiftOne Greensboro, NC location or any our 17 locations across the Southeast.