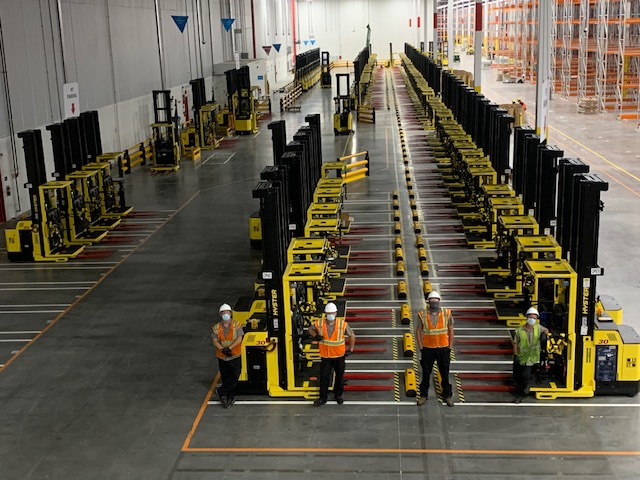 When entering the market for a forklift, a few items on your list of requirements should be more important than the proper forklift capacity rating. 
At LiftOne, we sell various types of forklifts, from micro lifts with a capacity of 1500 lbs. to high capacity forklifts that can safely lift up to 36,000 lbs. Read our guide below to get a better idea of how we can help determine your capacity needs.
Jump to Sections:
Understanding Capacity Limits
Knowing how to determine your forklift capacity needs isn't as simple as matching a 10,000-lb. forklift with a 10,000-lb. load. There are too many factors at play that cause changes to rated capacity measurements. From the number stamped on a data plate to the size of load you're actually lifting, ratings vary greatly.
The gross capacity, for example, is what the forklift is rated for with the base chassis and only gives a capacity up to a specific height, assuming all conditions are ideal. If you're in the business of forklift operation, you know these factors are almost never exact, and certainly never ideal.
Net (payload) capacity, on the other hand, is more specific to each individual forklift. It takes into account all parts of the forklift — attachments, model, and mast height. The higher the lift and larger the load, the lower the net capacity or the lift will be.
Asking the Right Questions
Making sure you understand capacity requirements starts with us, the dealer. Here are a few questions to help get us to get started:
What types of loads will the forklift carry?

What's the length, width, and height of the load?

How heavy is the load?

How high does the load need to be lifted?

Will your operation need any attachments?

What type of floor or surface conditions will you be operating on?

What capacity do I need from a forklift?
At LiftOne, we'll ensure that we have a complete understanding of your specific business needs before recommending any forklift. That means maximum safety, productivity, and an effortless buying process.
The Dangers of Exceeding Capacity
It's no secret that operating forklifts can be a dangerous job, but what's easily forgotten is how the small details can turn a routine job into a dangerous one. 
Exceeding the capacity of the forklift can accelerate the breakdown of your equipment by fatiguing metal parts including the chains, forks and even the kingpin near the rear axle.
While operating a forklift, you should always be aware of how a load's weight and shape affect your lift, the correct way to lift, and the difference between the forklift's gross and net capacity noted above.
Tips to Reduce Forklift Accidents
Buy or hire forklifts with a slightly bigger load capacity than what's actually needed.

Overestimate your load size.

If your load center isn't exact, counteract by reducing load weight.

Never exceed your lift's capacity.

Check and re-check the marked weight of an object before lifting.
Forklifts at LiftOne
At LiftOne, we know all about picking the perfect forklift for you. We carry a full suite of high-end lift trucks, including internal combustion and electric models from top brands such as Hyster, Yale, Utilev, Sellick, and Combilift. For every type of job, LiftOne has the different types of forklifts for your needs and the load capacity to get it done the safest way possible.