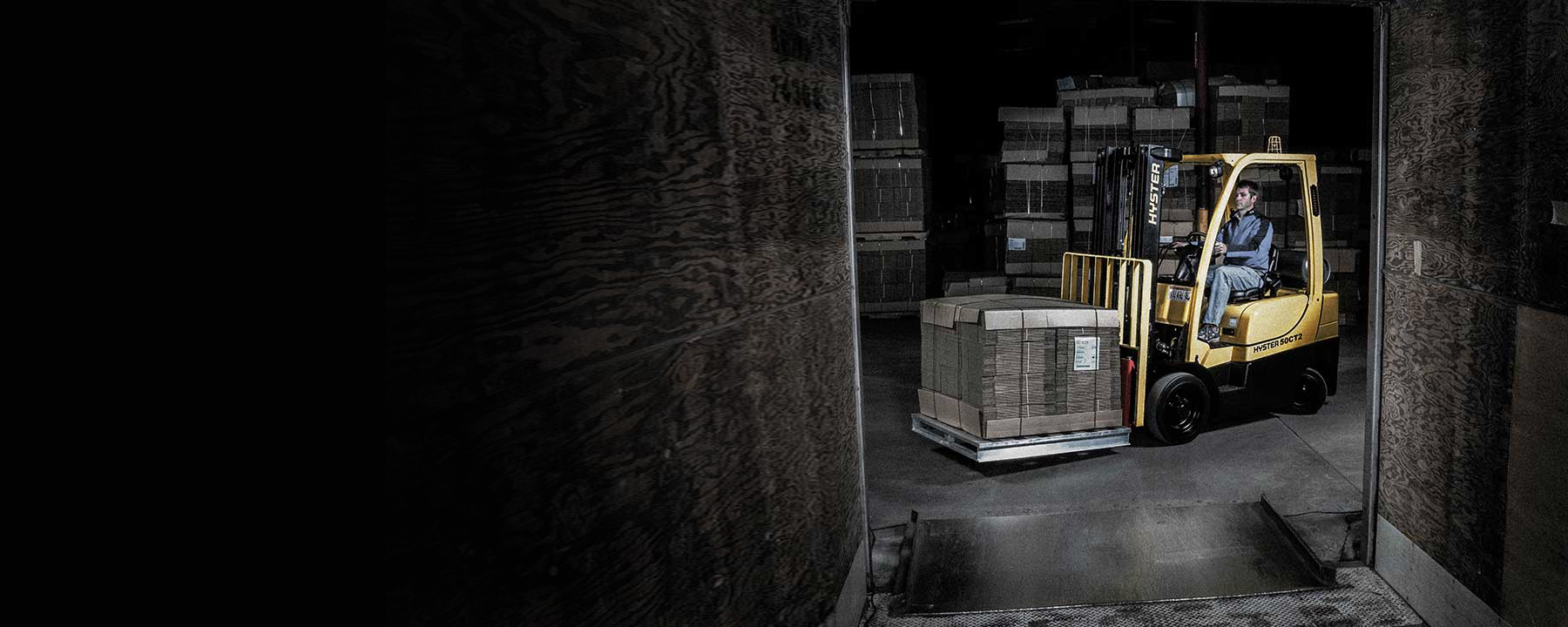 Not all worksites are created equal. While many of the machines we offer here at LiftOne are meant for outdoor work, forklifts are often utilized indoors as well. This includes, but is not limited to, factories, warehouses, and other jobs that deal with major indoor storage and shelving systems. These are jobs that involve not only hundreds of other pieces of equipment, but also other people as well. Because of this, there are certain types of forklifts, like electric forklifts from Hyster or Yale that are great for learning how to ensure maximum safety in your warehouse.
Jump to Sections:
What is Carbon Monoxide Poisoning?
Carbon monoxide poisoning is the result of what happens when carbon monoxide builds up in the bloodstream. Symptoms start very mild with a headache, dizziness, and nausea, and will build up with blurred vision and loss of consciousness, ultimately resulting in death. Before people even notice anything is wrong they could suffer from irreversible brain damage, which is why this is such an urgent problem for warehouses using gas-powered machines.
Even in our more-modern-than-ever era of tools and machinery, most job sites are loaded with gas-powered equipment. Everything from pressure washers, welders, generators, and of course, many forklifts, are powered by gasoline, diesel, or propane. What does that mean for you other than an unnecessarily loud engine in a confined space? It means the area around those machines, and where you work, is being slowly flooded with carbon monoxide (CO). No matter the engine size, the time working in the area, the ventilation at your location, symptoms of CO poisoning are extremely common, especially when diesel-powered forklifts are nearby. OSHA reports that every year, carbon monoxide poisoning is responsible for the deaths of workers who were in enclosed spaces without proper ventilation. Any indoor operation of gas-powered forklifts is risky, but there are ways around it.
Equipment to Avoid CO Poisoning
The best way to avoid CO poisoning? Using electric tools and machinery! At LiftOne, we offer a wide range of electric equipment that performs just as well as traditional IC equipment. In addition to reducing risk of CO poisoning to zero, electric forklifts offer lower operating costs and quieter operation, making them the ideal choice for indoor work. While these might be the benefits of electric forklifts in a warehouse, LiftOne offers many other pieces of electric equipment, including:
H340AJ Hybrid Aerial Lift- This powerful aerial lift provides you with a diesel-like performance while running completely on 8 x 12v 100 amp-hour AGM batteries. These batteries are charged by a diesel generator, which results in lower emissions, noise, and maintenance. If you are interested in a

battery-operated aerial lift

, talk to the experts at LiftOne.

B-248 36V GT Industrial Vehicle- This powerful, electric burden carrier is a great option for any warehouse! This tough machine can carry up to 4,000 lbs, pull 17,500, or carry up to 10 people.

The B-248

  is equipped to get the job done, and keep your warehouse carbon monoxide free. 

1230ES Aerial Platform- This

battery-operated aerial platform

is a great solution for reaching heights indoors. It's longer run time combined with how light-weight it is provides a great option for use inside a warehouse. Having a carbon-monoxide free warehouse has never been easier. 
How to Prevent Carbon Monoxide Poisoning in a Warehouse
If a gasoline-powered forklift is your only option, there are a few ways to reduce the risk of CO poisoning. Keep in mind, however, only electric equipment is capable of completely eliminating CO poisoning. Carbon monoxide is odorless, color-less, and doesn't irritate the body in an obvious way before having dangerous and potentially lethal effects.
Take the following safety precautions if you decide to operate gas-powered equipment inside:​
Educate those on the worksite to recognize the symptoms of CO poisoning: headache, nausea, weakness, dizziness, visual disturbances, changes in personality, and loss of consciousness. (These symptoms and signs can occur within minutes of usage.)

Use personal CO monitors in areas where there's a risk of CO overexposure.

Hold a workplace survey to identify potential sources of CO.

Stay away from the work area until the tool has been deactivated and measured CO concentrations are below accepted guidelines and standards.

Ensure that your warehouse is properly ventilated and up to code. Dilution with outdoor air is not an effective way to avoid CO poisoning. By increasing ventilation you can reduce the amount of CO buildup indoors, although this does not mean you can ignore other precautions. Any amount of carbon monoxide is a dangerous amount.
Interested in more information regarding CO poisoning and how to prevent it?  Find a LiftOne location near you for all of your new/used, rental, and service options for electric equipment today!