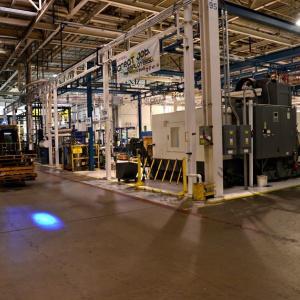 Forklift accidents occur in warehouses and distribution centers across the country daily, and some of those accidents each year have catastrophic consequences. OSHA estimates that with the right training and safety products, 70% of those accidents could be prevented. Take a look at the top forklift safety products and accessories on the market today and consider adding them to your fleet to improve your facility's safety.
Jump to Sections:
Pedestrian Awareness
Based on your facility layout and lighting, you can increase awareness and achieve optimum truck visibility to aid in pedestrian safety.
Red zone lights project a red beam of light from the overhead guard onto the floor. It offers a visual barrier to remind pedestrians to walk outside of the red curtain area.
A Strobe light is a bright flashing light placed on top of the truck to alert pedestrians of a truck's presence. This light is a good option for noisy areas where an alarm is drowned out by other sounds.
Blue LED spotlights work by projecting a blue spotlight onto the ground ahead of the lift truck in the direction of travel. The blue light is visible to pedestrians and other equipment operators even in intersections with limited visibility.
Audible Alarms
Forklift audible alarms can notify pedestrians or surrounding mobile equipment operations that they are close to a truck in motion. Using this audible warning system can enhance awareness, even in environments that have a lot of background noise. Audible alarms can self-adjust to 5 decibels louder than the surrounding ambient noise, eliminating the need for constant manual adjustments. Types of audible alarms include backup and motion.
Blind Spot Solutions
Forklift drivers should always know what obstacles are around them, however, blind spots are still present. Forklift mirrors can greatly enhance an operator's visibility and reduce or eliminate blind spot zones. A dome mirror provides a wide-angle view with the greatest degree of visibility.
Replacement Chains
Forklift chains should be regularly lubricated and inspected per manufacturer guidelines and typically need to be replaced every three to five years. A forklift chain enables your equipment to carry the weight of your load and, if it fails, can cause major damage. Forklift chain replacement is a repair with no room for error and it should be handled by an experienced technician.
Count on the equipment experts at LiftOne for all your forklift safety products and accessories. Call or stop at any of our dealership locations to speak with one of our team members about your specific warehouse safety concerns and how we can help mitigate them.