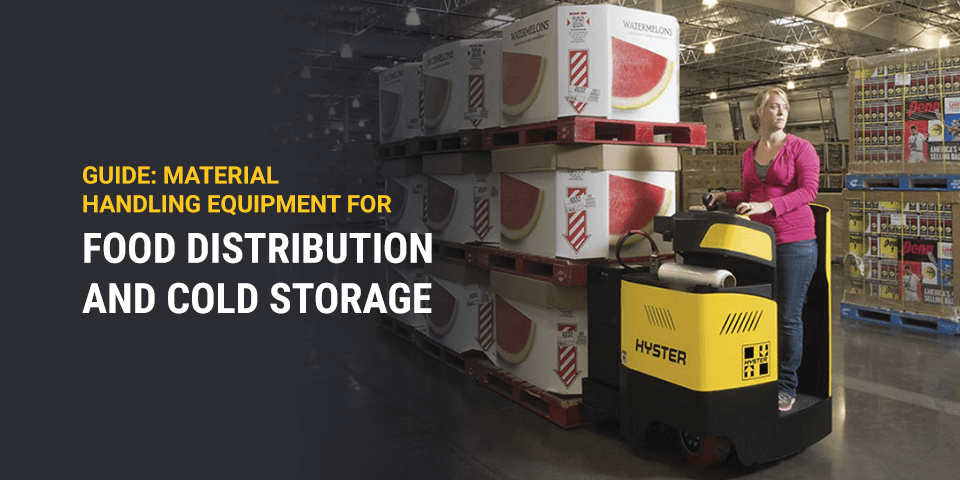 Creating an efficient and well-organized food distribution and cold storage facility requires working with a material handling partner that knows your unique industry challenges. From the obstacles of growing consumer demands to increased safety regulations finding the right equipment to move, control and protect the flow of products in a warehouse setting is critical.
The specialists at LiftOne material handling and warehouse solutions have put together this guide to walk you through finding the ideal equipment for your facility. We've also addressed common challenges and how you can break through these hurdles to achieve maximum productivity.
Key Food Storage Warehouse Equipment
Cold storage is a complex application for material handling equipment due to the need to transport perishable foods from deep-freeze to refrigerated areas. A food storage and distribution warehouse needs top-tier equipment for speed and accuracy to protect the product from temperature changes. LiftOne has a suite of equipment solutions that can meet cold storage warehouse management needs:
Overcoming Common Food Distribution Challenges With Material Handling Equipment
Food distribution offers unique challenges for warehouse managers and material handling equipment. Every obstacle you face has a solution based on the tested experience of material handling supply experts:
Cold protection: When material handling equipment abruptly moves from cold to warm environments, condensation can build within the components and cause serious damage to the electronics. With a built-in cold package, forklifts have specialized technology like thermostatically controlled heaters to protect your investment.
Enhanced controls: Most traditional forklifts can be difficult to drive when wearing thick gloves for entering cold storage. High-quality equipment from brands like Hyster and Yale have ergonomically designed controls that are easy to grip even when wearing thermal protection gear.
Food Safety: Protecting product from contamination and following strict safety regulations is critical for your operations. Using food grade lubricants that are non-toxic and USDA inspection ready, as well as lithium-ion batteries that reduce fumes and spills, are excellent options to reduce contamination and product recalls.
Minimized cold zone staffing needs: It takes extra time, care and attention for humans to move in and out of cold storage areas. Robotic equipment can perform their tasks without needing the same special considerations.

Contact Your Local LiftOne Dealer to Explore Food Storage Material Handlers
LiftOne is a family-owned business that has served the Southeast with trusted material handling equipment and services for almost a century. Whatever your food distribution and cold storage facility needs, we can find you a solution at one of our numerous dealerships.
Want to take your warehouse fleet to the next level? Reach out to us online to connect with a team member or search for the location nearest you to begin today.