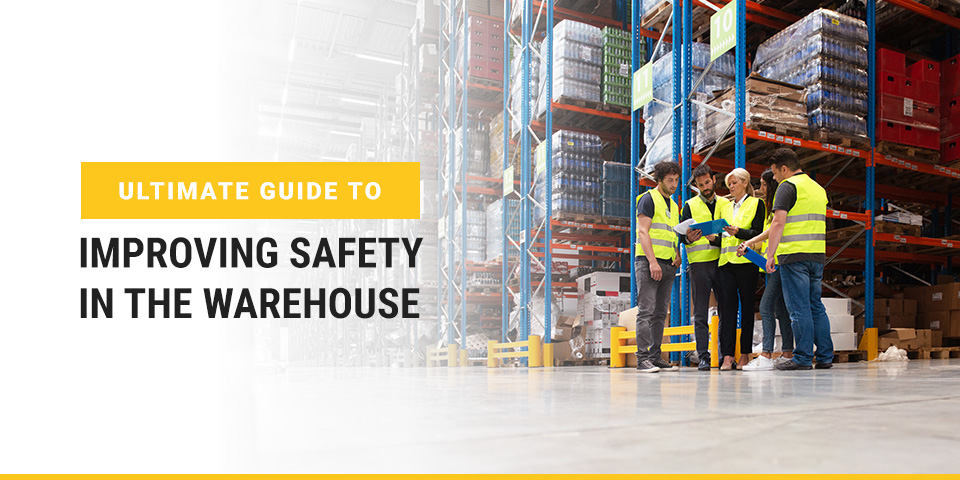 Safe warehouse operations are a priority for many warehouse managers. Using industry-proven best practices helps prevent employee injuries, reduces downtime and increases productivity. Start improving safety in the warehouse by following our tips.
Jump to Sections:
Common Warehouse and Forklift Accidents
Warehouses have many common workplace injuries, each with its own cause. These events are frequently behind accidents in warehouses:
Machine entrapment: Employees can be severely injured if they get entrapped in operating equipment.
Slips, trips and falls: It is common for warehouse workers to slip, trip or fall on the floor. Slippery and uneven floors or an accumulation of unfastened cords, residue, grease and debris can cause this kind of injury.
Chemical exposure: Many warehouses store and use chemicals for various purposes. Accidental spills and leaks can harm employees.
Equipment accident: Equipment like forklifts and mobile elevating work platforms can cause injuries when used carelessly. Pedestrians can get struck by moving equipment, be entrapped by moving equipment, and operators may be injured in a roll-over accident. Causes of equipment accidents often include inadequate training and/or poor operation practices.
Hit from a falling object: An object falling off the shelves or elevated equipment can strike workers. Human error and poor operation practices can cause stacked items to fall.
How to Make Your Warehouse and Forklifts Safe
The following measures are vital for improving safety in the warehouse:
1. Reduce Safety Hazards
Proactively conduct regular audits throughout your facility to identify and remove hazards that could cause an accident, like loose cords, cracked floors and debris piles. Additionally, you should inspect your storage racks for damage and schedule maintenance if needed on racking to reduce avoidable accidents to your product, equipment, and team.
2. Inspect Your Equipment Before Every Use
Powered industrial trucks should be inspected by using the manufacturer's published operator manual for the specific equipment your team will be operating. Example inspection points may include visually inspecting the lift for damage or leaks, appropriate fluid levels, and appropriate warning and safety tags. By verifying the truck is visually of a suitable condition, then operators can verify horns, steering, brakes, and other hydraulic functions work as intended.
3. Mark Hazardous Zones
Organize your warehouse racks, equipment and flooring with signage. The signs help your employees understand the potential dangers, safe areas for foot traffic and take the correct action. Signage should also mark emergency exits and routes to them.
4. Train Your Workers on Safe Practices and Certify Your Operators
Train employees to identify and correct safety concerns around your warehouse. OSHA requires employers to train and certify all powered industrial truck operators upon hiring and recertify every three years. Conduct regular training sessions to ensure all operators have an opportunity to understand the equipment they will be operating and safely obtain certification. Not only will your company avoid potential legal complications, but your operators will be able to work safely.
5. Wear Proper PPE for the Task
Make sure your employees wear personal protective equipment (PPE) like safety glasses, masks, gloves, vests and hard hats, appropriate to the task at hand. Employees should also wear tight-fitting clothing if they are working near rotating equipment since loose garments can get caught in equipment.
6. Implement Safety Technology
Today's warehouses and equipment have technology options that can alert employees to potential dangers, such as audio and visual technology to prevent accidents in blind corner intersections or high-traffic areas. Consider integrating and installing technology on your equipment and throughout your warehouse.
7. Keep the Floor Dry
Encourage workers to mark and clean up wet floor areas to prevent slipping accidents. Employees should put out wet floor signs when cleaning the floor and remove spills right away.
8. Install Safety Barriers
Safety barriers and guard rails are an effective way to help reduce accidents and protect equipment and product damage from impact. Installing safety barriers in high interaction areas can increase your employee's awareness of their surroundings while also better guiding forklifts around your facility.
LiftOne's Safe Material Handling Solutions for the Warehouse
One way to maximize safety in your warehouse is to use material handling equipment specifically designed with safety and your operators in mind. Combilift, Hyster and Yale models are among the safest material handling equipment options for warehouse applications, offering the features you need to handle palletized products and long loads easily.
Our material handling equipment design is designed to keep employees safe while working in narrow aisles and other tight spaces. Operators will have total visibility to confidently transport products. Additionally, since this material handling equipment is engineered with warehousing in mind, it can help reduce product damage by making it easier for workers to navigate aisles.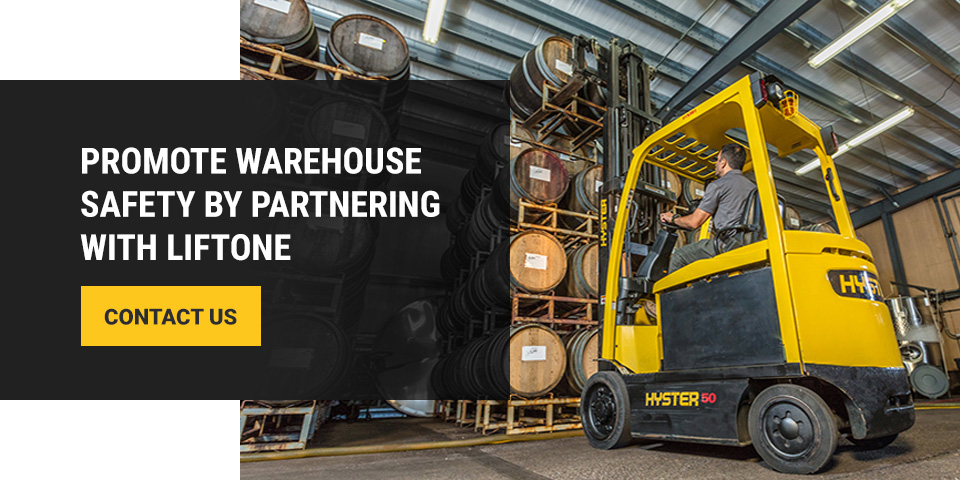 LiftOne's Safe Material Handling Solutions for the Warehouse
LiftOne has safety solutions for your entire warehouse operations. We will help your warehouse become a safe working environment for all employees. Learn more about how we can help by contacting us online or calling 855.543.8663.