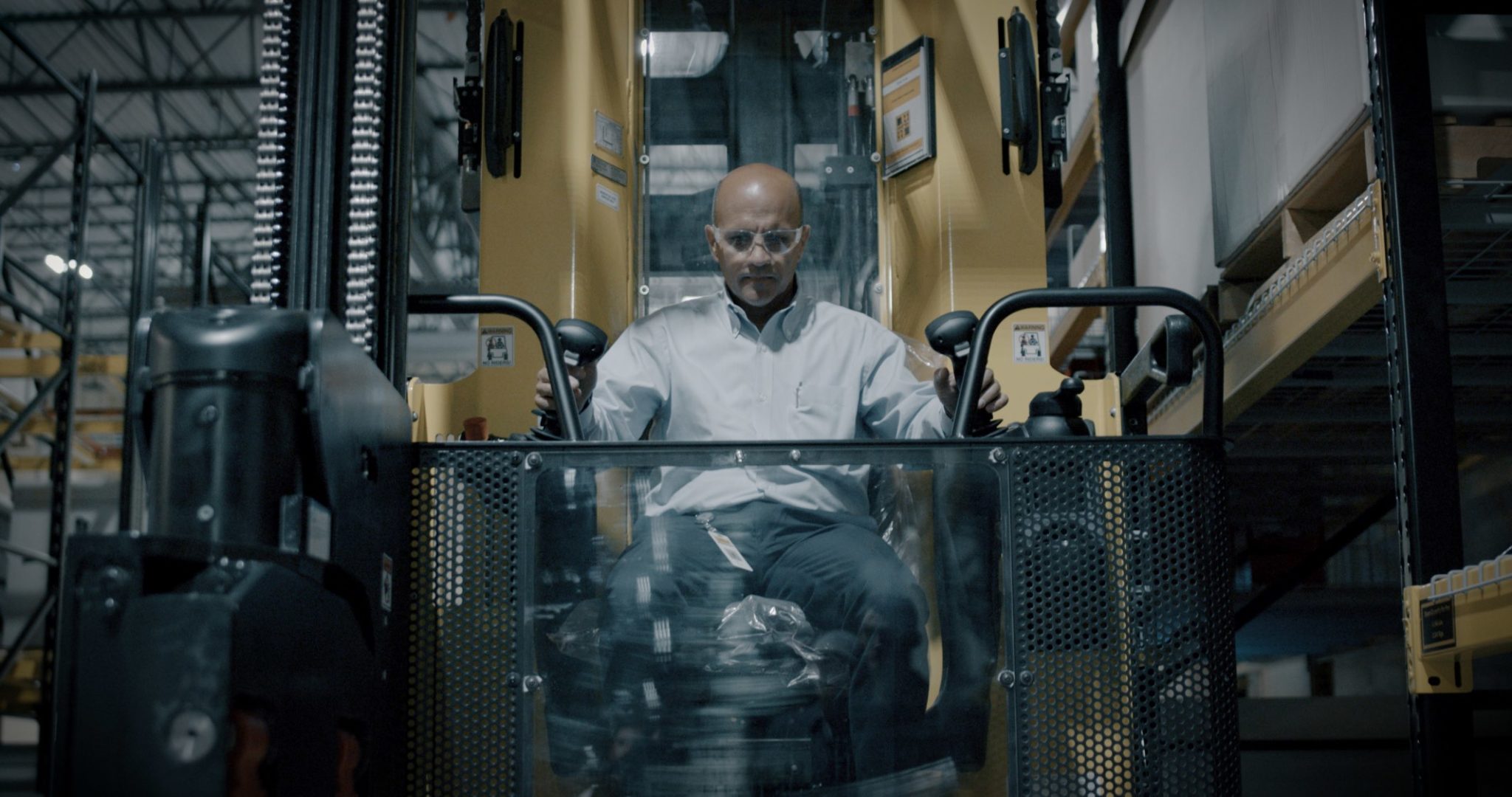 When is a forklift more than a forklift? When it has attachments. Attachments allow your forklift to become more efficient and versatile with handling unique material handling products. An attachment can enable a lift truck to push, pull, clamp, lift, side shift and rotate any load imaginable. Let's take a closer look at selecting a forklift attachment and what kind of options are out there.
Jump to Sections:
Types of Forklift Attachments and When to Use Them
The benefits of forklift attachments are numerous, but their success depends on your industry and the type of work you do. Here are some of the most common forklift attachments and their applications:
Bale clamp: The bale clamp, as you might expect, allows you to handle baled products that don't use pallets. For instance, think of materials like hay, cotton and wool. You might find these clamps useful in agricultural and manufacturing environments.
Carton clamp: A carton clamp allows a forklift to pick up pallet-free containers, such as cartons or cases of products or large appliances. This attachment has applications in many warehouses across industries.
Fork positioner: With a fork positioner, you can adjust the distance between two forks, making it easy to work with various pallet sizes. This attachment is common in distribution, warehousing and food manufacturing industries.
Fork clamp: A fork clamp lies in between a fork positioner and a clamp. It can clamp down on awkwardly shaped loads and position the tines as well. This forklift attachment is versatile and has a place in many industries. 
Paper roll clamp: Paper roll clamps are specialized attachments that let paper manufacturers and printers handle rolls without damaging the material.
Bar arm clamp: Bar arm clamps are popular when working with textiles. Rolls of cloth fit onto the bar arms, which are available in varying lengths and sizes.
Push-pull clamp: A push-pull clamp allows you to avoid using pallets. By replacing pallets with slip sheets that slide onto a push-pull clamp, you can reduce shipping costs and speed up product movement. Beverage and food production are a few industries in which this attachment is common.
Fork rotator: Fork rotators allow the forks to be turned so loads can be dumped into other containers. This kind of application is common in industries like waste and recycling, food beverage processing and agriculture.
Side shifter: A side shifter allows operators to laterally shift loads based on the capacity of the forklift. The ability to move a load from side to side enables operators to shift pallets without moving their trucks. This ability streamlines pallet loading and helps with warehouse space optimization in a wide range of industries.
Multiple pallet handler: As the name suggests, this attachment allows forklifts to handle multiple pallets. The forks separate hydraulically, so operators can handle single pallets as needed and separate the forks to move multiple pallets from side to side. This ability can be a significant time saver in warehouse environments.
Fork extension: This forklift attachment allows your truck to carry a larger load than it could with its standard forks. These extenders enable an operator to carry more than one pallet and add an extra layer of efficiency to factories, warehouses and shipping operations.
Man cages: Forklifts transform into mobile elevated work platforms with man cage attachments. These fenced-in platforms lift with a forklift's hydraulics and can carry two to four people depending on your forklift's capacity.
Factors to Consider When Choosing a Forklift Attachment
With the many types of forklift attachments, it can be challenging to choose the right one. While you may have narrowed your search to one attachment type, there are still more considerations. When selecting a forklift attachment, you'll need to keep a few things in mind:
Stability: An attachment can significantly change the stability of a forklift. It will change the weight and center of gravity — so keep these factors in mind, especially if you're working with heavy loads.
Capacity: A forklift with an attachment must always be considered partially loaded. The weight of the attachments comes off of the forklift's capacity, so keep this in mind when deciding if your loads are appropriately sized.
Load type: Remember that certain attachments are only designed for specific types of loads, such as pallets, bales or containers.
Forklift attachments are typically designed to work with all makes and models. For instance, if you want a clamp forklift attachment for your Hyster, there's no need to find an attachment designed specifically for the brand. Still, it's best to confirm an attachment is well-suited to your forklift based on capacity and load requirements. You can read your operator manual to find this information. 
Can You Rent Forklift Attachments?
Absolutely — and companies in many industries choose to use rental forklift attachments for the cost savings and improved flexibility. If you know you'll only need a specific function for one project, these attachments can help you add abilities to your fleet without renting an entirely separate piece of equipment.
However, keep in mind that using attachments is not as simple as connecting them and getting to work. The Occupational Safety and Health Administration (OSHA) requires retraining when an attachment is put on a forklift. Forklift attachment training is necessary because of how the attachment can affect stability and balance as well as alter the allowed load size.
As long as you keep these factors in mind, rentals are an excellent way to build your fleet's capabilities.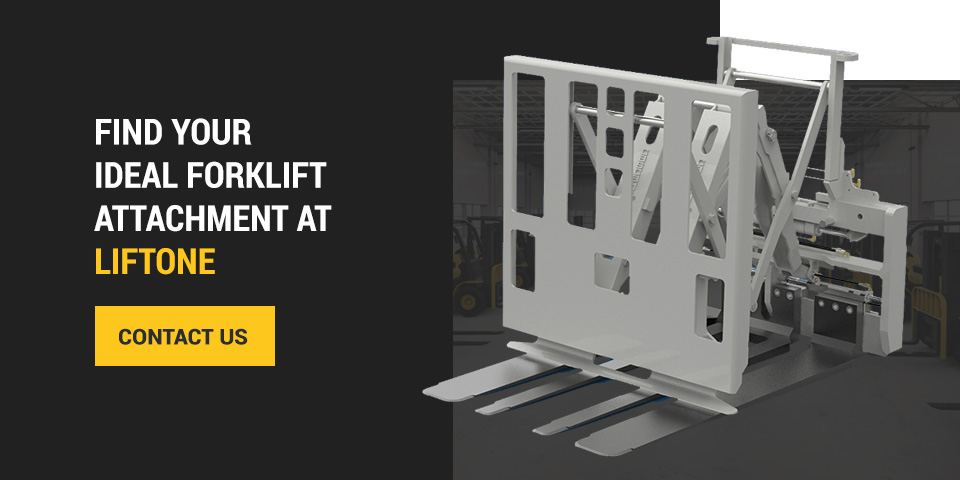 Find Your Ideal Forklift Attachment at LiftOne
It's clear that forklift attachments have a place in many applications and industries. If you rely on a forklift in your operations, you can get even more from it with the right attachments. Here at LiftOne Rents, we offer a wide selection of attachments available for rental or for purchase. 
If you still need help finding the best attachment for your applications, the LiftOne team is happy to help. Contact us today to submit a request or get in touch with us. You can also find a location near you to see our available attachments in person.