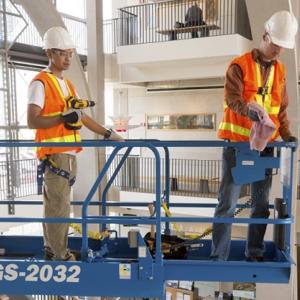 No matter what industry you work in, having the right personal protective equipment (PPE) for the job and a plan in place to ensure it is used properly are critical components to keeping your employees safe. Read on to learn how to improve safety and cleanliness in the workplace through the use of PPE.
Jump to Sections:
Personal Protective Equipment Assessment
Now you may be wondering, what is a personal protective equipment assessment plan? In short, it is an evaluation of your workplace to identify hazards that your employees may be confronted with. From this, you are then able to determine what PPE your workers need to protect themselves.
OSHA standards are a great starting point for understanding what PPE is required for certain types of hazards.
Here's a brief list of some of the Personal Protective Equipment we offer:
Fall Protection Equipment
Safety Harnesses
Lanyards
Seatbelts
and more
How to Create a PPE Plan
The first step in the process of getting your workers the PPE they need to work safely and effectively is to create a PPE plan. Below are the best practices for PPE assessment plans:
Survey your employees
By surveying your workers, you can identify risks and hazards to address early on. You will want your managers, supervisors, and workers to all complete these steps. 
First, they will need to inspect the site. They will look for hazards such as obstructed walkways, exposed wires, and other physical dangers.  
Second, they will then examine the materials they work with. Different materials they interact with or are exposed to will pose different threats that you will want to be aware of. 
Third, you will want to observe your employees working to see if you notice anything they don't. 
Lastly, talk to your employees for additional feedback. Make note of their concerns. 
All of this will lay down the base work so you can create an effective PPE plan.
Select the Right Controls
You will want to plan on implementing pre-contact control and/or point-of-contact control for each hazard you identified in the previous step. 
Pre-contact control is designed to keep the worker from reaching the point of hazard. One way you can do this is by simply replacing old equipment or machinery that poses a threat. 
Point-of-contact control is designed to only mitigate the threats of a hazard. Best practice is to use these as an additional safety measure. PPE is a common example of this.
Identify the Appropriate PPE
In order to identify the appropriate PPE for your workers, you'll need to answer a few questions. 
First, what industry are you in? Protective equipment for construction is very different than protective equipment for food processing facilities. 
Second, what hazards and risks have you identified? All forklift operators should have personal protective equipment when operating or working in the same vicinity as a forklift. If you have employees working on MEWPs , you'll need appropriate fall protection equipment. If your employees are exposed to noise that equals or exceeds 85 dBA, you'll need to provide hearing protection. 
These are just a few examples, but you should do a thorough examination of workplace practices and procedures to identify risk areas. Once you've identified the hazards, you can find the right PPE solutions.
Conduct a Fitting Test
It is important to note that how well the equipment fits the worker will determine how effective it is. Take the time to get each worker's measurements and find what is going to work best for them.
Develop a Training Program
A training program is essential to making sure your PPE plan works the way you intend it to. You will want to cover a few areas in your training. 
First, you want to explain to your employees what the PPE is for. They should understand its importance and how it is to benefit them. 
Second, address how and when to wear the PPE. 
Third, go over some common scenarios and explain how to spot problems.
How to Implement a PPE Plan
Securing the right personal protective equipment to address the hazards at your worksite is only the beginning of creating a safe work environment.
Hold Training Session
While it may seem obvious and straightforward, do not overlook this step. Really stress the importance of training to your employees. You want them to be as engaged as possible so try to make it fun.
Inspect Routinely
Have employees regularly inspect PPE and replace as needed. These inspections are just as important as daily walkaround equipment inspections. PPE only improves safety if it is functioning properly.
Monitor Use
Do not assume your employees will always use PPE as required. Have people in charge of keeping an eye on how the PPE is being used. 
Conduct Regular Audits
You will want to conduct regular audits using safety performance data. This will help you determine if there are any gaps in your PPE program.
If you are in need of PPE, our team would be happy to help you assess your PPE needs, make recommendations on the best protective equipment, and help you develop a safety plan to ensure its proper use. Contact us today to get started.