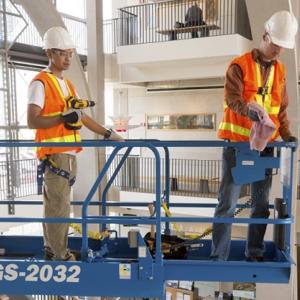 No matter what industry you work in, having the right personal protective equipment (PPE) for the job and a plan in place to ensure it is used properly are critical components to keeping your employees safe. Read on to learn about how to assess your company's PPE needs and tips for implementing a safety plan.
Personal Protective Equipment Assessment
Understanding your PPE needs begins with answering a few questions. First, what industry are you in? Protective equipment for construction is very different that protective equipment for food processing facilities. Second, what hazards and risks have you identified? All forklift operators should have personal protective equipment when operating or working in the same vicinity as a forklift. If you have employees working on MEWPs , you'll need appropriate fall protection equipment. If your employees are exposed to noise that equals or exceeds 85 dBA, you'll need to provide hearing protection. These are just a few examples, but you should do a thorough examination of workplace practices and procedure to identify risk areas. Once you've identified the hazards, you can find the right PPE solutions.
OSHA standards are a great starting point for understanding what PPE is required for certain types of hazards.
Here's a brief list of some of the Personal Protective Equipment we offer:
Fall Protection Equipment
Safety Harnesses
Lanyards
Seatbelts
and more
Implement a PPE Plan
Securing the right personal protective equipment to address the hazards at your worksite is only the beginning of creating a safe work environment.
Tip 1 – Provide training on when and how to properly use PPE.
Tip 2 – PPE compliance is typically much greater when employees are involved in the purchasing decisions. Depending on the type of PPE, it might make sense to have it individually assigned and let the employee choose from two or three models.
Tip 3 – Have employees regularly inspect PPE and replace as needed. These inspections are just as important as daily walkaround equipment inspections. PPE only improves safety if it is functioning properly.
Tip 4 – Monitor use – Don't just assume employees will always use PPE as required.
Tip 5 – Conduct regular audits of safety performance data to determine if there are any gaps in your PPE program.
Our team would be happy to help you assess your PPE needs, make recommendations on the best protective equipment, and help you develop a safety plan to ensure its proper use. Contact us today to get started.