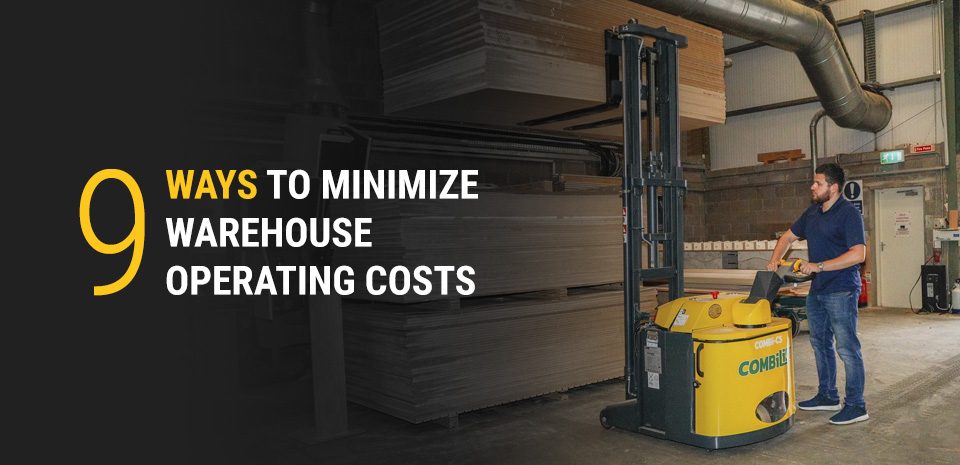 The costs for managing and operating a warehouse can include expenses for handling, maintaining your fleet, storage space, labor, operations, administrative costs and more. Though these costs will vary, all facilities are looking for ways to optimize their expenses. Learn more about how to manage your bottom line from the LiftOne team.
1. Set up Internal Benchmarks
Benchmarks help you reduce cost per order, even when volume increases. These benchmarks can apply to work standards and department practices.
2. Schedule Preventative Maintenance on Your Equipment
Keeping your fleet operating at its peak is critical to your productivity. By having regularly scheduled maintenance on your fleet, you'll know when your asset is scheduled for maintenance allowing you to have more control over your utilization. Having a maintenance agreement also helps extends the life of your fleet by ensuring all parts, fluids meet OEM specifications.
3. Reduce Your Energy Costs
Keeping your energy costs in check will reduce your warehouse costs too. Reduce your energy consumption by installing automated lighting or upgrading the insulation. Utilizing different power sources for your equipment can also be a way to reduce energy. Lithium-ion and hydrogen fuel cells are alternative solutions that reduce emissions and require less maintenance than traditional lead-acid batteries.
4. Manage Your Labor Force
Labor is one of the biggest yet most controllable warehouse expenses. Keep this figure in check by implementing practices to improve your workers' performance. Boosting efficiency can reduce your overall labor cost. Another alternative is to consider using robotic forklifts to perform repetitive tasks to shift employees to more value-added tasks.
5. Add New Technology
Technology upgrades on your equipment, like robotics and the latest safety upgrades, can improve your inventory control and productivity. Some tools may give you a quick return on your investment with minimal training.
6. Enable Cross Docking
Cross docking transfers products from the supplier to the customer without the need for long-term storage. The product might go right to a delivery truck or be directly transferred to the retailer. Cross docking saves time with production management and storage and cuts the associated costs.
7. Protect Your Inventory
Damaged, lost and stolen goods can account for high warehousing costs. Inventory controls and storage systems reduce the likelihood of these problems.
8. Optimize the Warehouse Storage Space
Optimizing your storage means using less space, which is more cost-effective. Reduce your aisles to the smallest possible width to create more room for racks, and add labels and signs to make products easy to find.
9. Maximize Equipment Versatility
Get the most from your investments by using the same equipment for multiple tasks. Maximizing your fleet prevents the need to purchase or rent more equipment.
At LiftOne, we sell Combilift forklifts that provide a three-in-one solution to improve safety, efficiency and productivity in the warehouse. This equipment can maneuver easily through aisles and other tight spaces. Combilift allows you to reduce your fleet size while maintaining your productivity levels.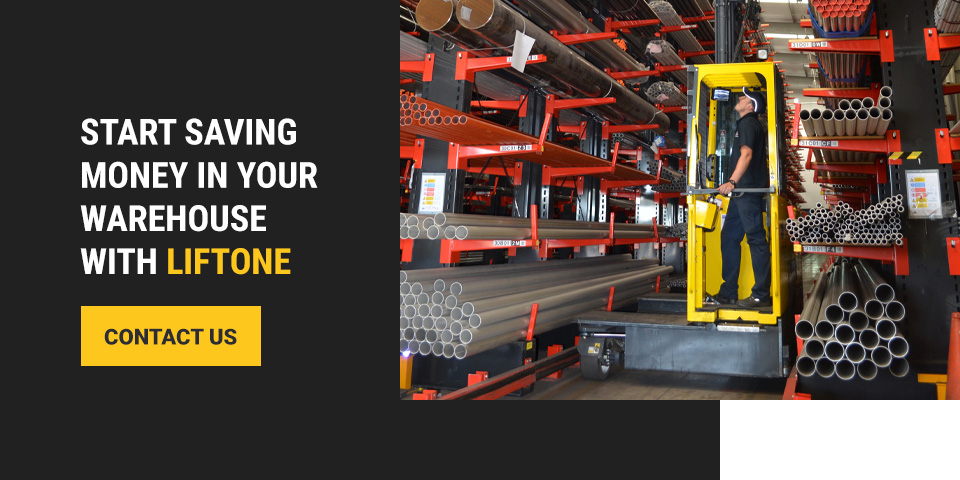 Start Saving Money in Your Warehouse With LiftOne
LiftOne offers many solutions for warehouses, including Hyster, Yale and Combilift equipment. Adding Combilift models to your fleet allows you to stay productive and lower operating costs with one investment. For more ways to reduce your warehouse costs, contact us online, call 855.543.8663 or visit one of our locations to speak with an expert.