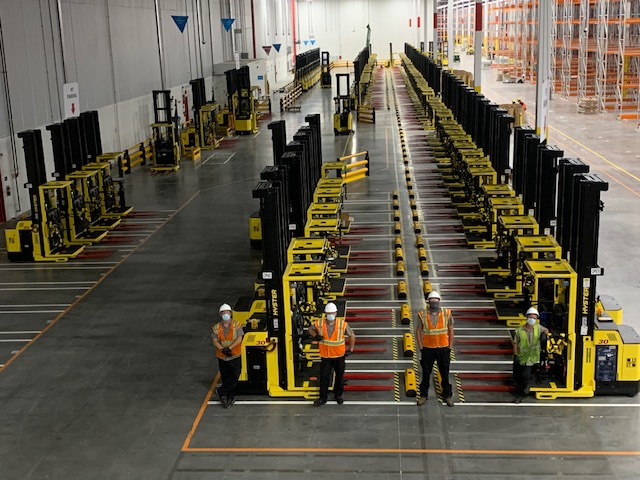 LiftOne is passionate about partnering with our customers to deliver the best possible solutions tailored for their specific application. We strive to understand our partner's challenges and provide solutions that will help make their operation more efficient and as safe as possible.
The LiftOne team was honored to be chosen to partner with a large e-commerce distribution customer to outfit and support new equipment for their distribution warehouse within our territory. The warehouse, boasting more than one million square feet, is a brand-new build within the customer's distribution network. LiftOne was responsible for the installation of their new equipment and will provide parts and service support for the account.
The installation encompassed four different models, totaling 248 forklifts. Because of the customer's broad and diverse product offering, different models were chosen in order to best support their business. The fleet included order pickers, multi-level order pickers, reach trucks and stand-up counterbalance forklifts. For this customer, the selection of eco-friendly equipment and solutions in the outfitting of their operation was important to them, which is why all of the models are equipped with hydrogen fuel cell technology. Additionally, all of the forklifts have telemetry installed to provide maximum visibility to the fleet and their performance.
This job was significant not only because of the high volume of machines, but the customer's deadline and coordination required with other vendors and construction on site. The LiftOne team had to work closely with the site manager and other vendors to ensure minimal distribution for all parties. With each forklift taking a few hours to assemble, four technicians were dedicated to the installation under the supervision of the local service manager.
"I am so proud of our people and us, as a business, to be nimble and agile to adapt to the ever-changing schedule, and ultimately getting the job done by the customer's deadline," LiftOne North Region Vice President Mark Hoch shared. "It is a true testament to our capabilities and further solidifies us as an unparalleled service provider in our industry."
Regardless the need of equipment or size of operation, LiftOne is ready to partner with you to optimize your fleet and warehouse solutions. LiftOne is one of the largest material handling dealerships in the region, and is best equipped to provide first-in-class sales, parts and service. Contact us today to learn how we help you optimize your operation.