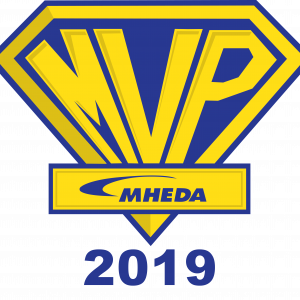 LiftOne has been awarded the prestigious MVP (Most Valuable Partner) Award for 2019, based on the company's accomplishments in 2018. This is the 7th time that LiftOne has earned an MVP Award from the industry's trade association, MHEDA (Material Handling Equipment Distributors Association).
Award recipients must satisfy a rigorous set of criteria with less than 10% of the association's membership earning the award. That means that as a 2019 MVP, LiftOne has successfully demonstrated a commitment to business excellence, professionalism and good stewardship.
To qualify for the annual MVP Award comparies are required to provide evidence of their commitment to their partners in business including their customers, employees and suppliers. They must satisfy criteria in the following important areas:
Industry Advocacy
Customer Service and Safety Practices
Business Networking
Continuing Education
Business Best Practices
Calsonic Kansei North America recommended LiftOne for this award and submitted the following comments:
"...Your frequent communication and attention to detail have been instrumental in our timely return of the existing equipment to the leasing company, which has helped us avoid much of the costs we have experienced in the past during this process.

We are very pleased with the quality of service and responsiveness to all of our needs. The implementation of telemetry and the maintenance agreement will further reduce our costs and simplify internal processes that have been burdensome for our Shipping, Manufacturing, Finance and Purchasing Departments.

I look forward to doing business with LiftOne for many years to come. It is my pleasure to recommend LiftOne for the MHEDA Most Valuable Partner designation."