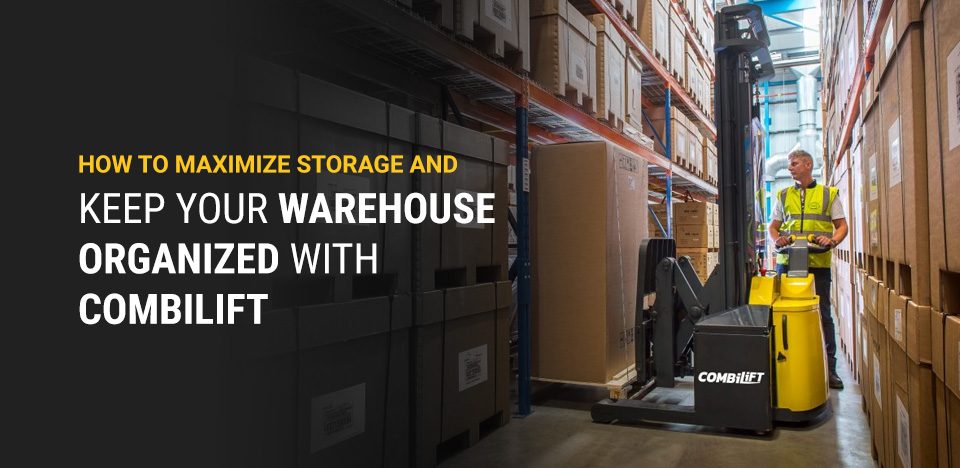 Optimizing your warehouse storage starts with organization and cleanliness. Maintenance practices should promote clean stock, high levels of employee safety, and efficient workflows. And when your warehouse has these basics down, then can you start maximizing your storage to allow for the most product in your available racking space. Warehouse material handling equipment from Combilift can help maximize warehouse organization by navigating narrow aisles, as narrow as 5 ¼ feet, while maintaining cleanliness. Explore our warehouse cleaning tips and Combilift products for more on how to optimize your storage.
6 Tips to Organize Your Warehouse
Learn how to make your warehouse more organized by following these best practices.
1. Make a Cleaning Schedule
Having a schedule ensures the warehouse is cleaned regularly. Keep all areas maintained by assigning tasks to individuals who work in that area.
2. Empty the Trash Cans
Empty the trash receptacles regularly to prevent overflowing. This task ensures employees and warehouse visitors can dispose of their waste in the right place.
3. Clean as You Go
Encourage warehouse workers to clean up after themselves with tasks like sweeping metal shavings or returning unused stock to storage. This task maintains cleanliness standards and removes hazards from work areas.
4. Keep Cleaning Supplies Stocked
Cleaning supply storage areas should have enough stock at all times. Having these products on hand promotes efficiency and encourages workers to complete their cleaning tasks.
5. Keep Inventory Stock Updated
Rotating your inventory stock prevents dust buildup and saves your operations money by freeing up valuable storage space.
6. Label the Floor to Identify Stock
Floor labeling organizes the sectors to identify inventory easily. These labels save time by making items easier to find and marking the various cleaning zones.
Improve Storage Organization in Your Warehouse With Combilift
Having the right material handling equipment to maximize your warehouse space and aisle widths can help keep your warehouse organized and clean, promoting a safer working environment for your employees. Combilift equipment from LiftOne can improve your organization by providing:
Very narrow aisle navigation: Combilift equipment can work in aisles as narrow as 5 1/4 feet while reaching heights of up to 49 feet.
Multidirectional operation: Multidirectional material handling equipment models from Combilift safely and efficiently handle long loads in tight spaces.
More ground space: Combilift equipment has a compact form factor that allows for easy storage and maneuvering. With this equipment, warehouse workers have more room to navigate the facility safely.
Get Warehouse Organization Solutions From LiftOne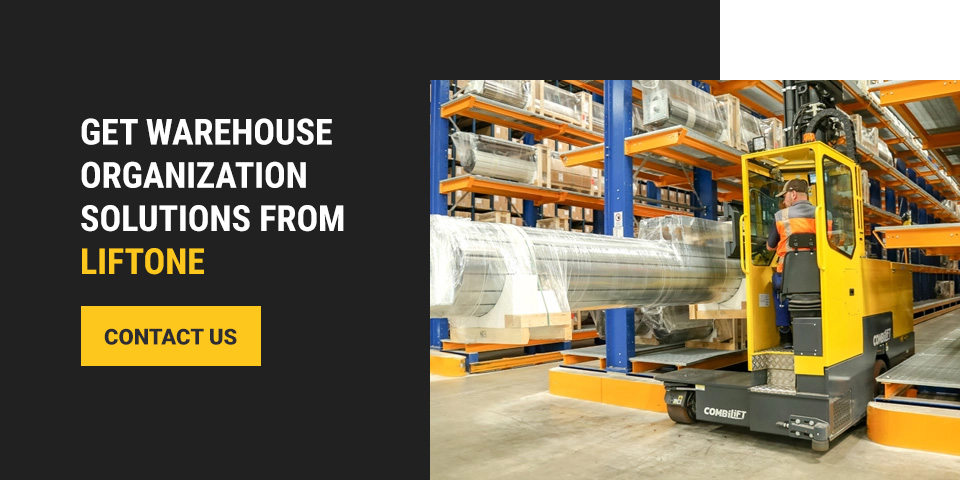 LiftOne offers advanced warehouse solutions to improve your safety, efficiency and costs. Our Combilift fleet features specialty equipment for warehouse applications. Partner with LiftOne for your warehouse needs today by visiting a LiftOne location, calling 855.543.8663 or contacting us online.