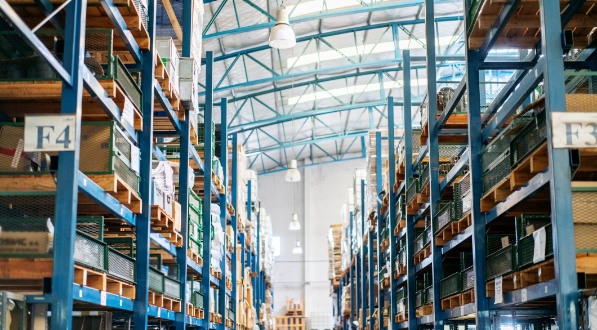 As the world has become more technologically advanced, supply chains have followed suit. If you manage a warehouse, you understand the importance of keeping up with these rapid changes — after all, technological evolution is unlikely to slow down soon. In addition, the lastest technology solutions include a variety of products that can help improve the safety of your employees and operations. OSHA estimates that about 70% of all forklift accident's could be prevented, and many of latest warehouse technology is built around preventing these accidents.
1. Communicating Clearly
2. Establishing an Integration Plan
3. Offering Comprehensive Training
4. Preparing for Roadblocks
If you want to implement new technology into your warehouse operations, it's vital that your employees know how to adjust. Luckily, there are a tips for you can use when implementing new warehouse technology with your operators, helping your team embrace changing processes and new standards in the workplace.
Our Tips for New Warehouse Technology Implementation
When introducing warehouse tech to your workers, it's essential to have a predetermined plan that helps the transition occur as smoothly as possible. You can adequately prepare your employees for even the most advanced technological changes with the following tips.
1. Communicating Clearly
Because supply chains have many moving parts, effective communication is more critical than ever. When you exercise clear communication with your employees, you can keep them better informed about changes and ensure they're prepared to adjust.
Once your new tech is live, you should interact with your employees regularly to discuss results, reinforce important points, deliver feedback and answer questions about the latest solutions. Keeping a line of communication open with your employees means you can better gauge their understanding and general success with your updated systems and intervene as needed.
2. Establishing an Integration Plan
When introducing new tech to your warehouse workers, it's essential that you have a solid integration plan in place. If you're less than fully prepared to implement new technologies into the workplace, how can you expect your employees to use them properly?
Integration plans offer a clear, linear view of how your company will implement new technologies into everyday processes and provide insights on what needs are high-priority. It's helpful to create a project management calendar to visually identify progress points that operators should hit on a specific timeline. Presenting a methodical strategy prevents workers from becoming overwhelmed by too many moving parts and focuses them on what's most important.
3. Offering Comprehensive Training
One of the most vital aspects of introducing warehouse tech to your workers is providing thorough training to help them become comfortable and confident using the new systems. Your training program can address procedures and operations associated with the latest technology. Plus, you can utilize company leaders and managers who have extensive experience using the new systems to relay this knowledge to the workforce. You can also opt for interactive training sessions over manuals and lectures to better engage employees.
4. Preparing for Roadblocks
With any technology comes the chance of glitches and malfunctions. That's why it's essential to plan for potential roadblocks by creating allowances for moved deadlines, additional training days and trial-and-error blocks in your project management calendar. Flexibility prevents system errors from significantly impacting warehouse operations.
Introduce Warehouse Tech to Your Workers With LiftOne
You can find top-of-the-line warehousing technologies, including autonomous vehicles and wireless telemetry data, that will improve productivity, safety, and efficiency on your job site at LiftOne. We have over 95 years of experience under our belts, making us a knowledgeable and trusted partner for customers across Alabama, Georgia, Tennessee and the Carolinas.
Contact us to learn more about our cutting-edge innovations and let our team provide a consultative approach to finding the right solutions for your business.