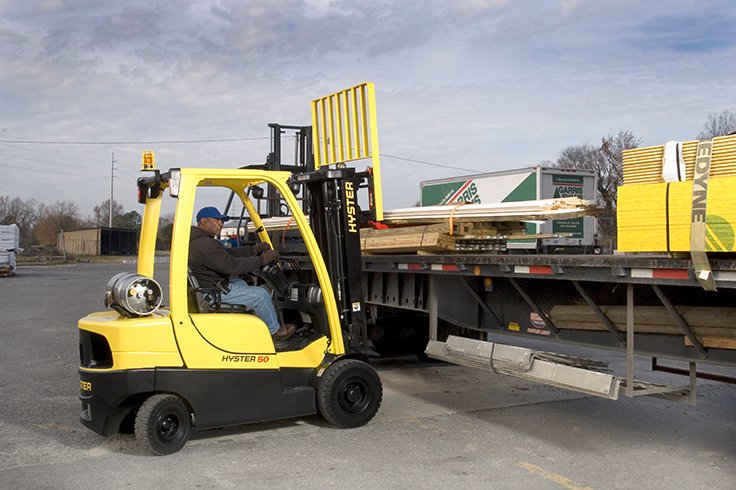 Companies that manufacture equipment containing internal combustion engines (ICE) must comply with stringent environmental guidelines. LiftOne is proud to represent a full complement of Internal Combustion Engine lift trucks that have received the necessary 2021 emission certifications from the Environmental Protection Agency. Although stock levels for these internal combustion engine models are limited, we are actively quoting and taking orders now. 
LiftOne provides a host of reliable forklifts or other material handling equipment solutions to businesses across North Carolina, South Carolina, Georgia, Tennessee, or Alabama that maximizes productivity. We carry a wide selection of Hyster and Yale products you can trust to get the job done and meet the EPA Tier IV Final and all other applicable emissions guidelines. 
Jump to Sections:
About Hyster ICE Forklifts
Hyster Company has been a pioneer in the design and manufacturing of industry-leading forklifts and material handling equipment for more than 95 years. With the support of its parent company, Hyster-Yale Materials Handling, Inc., Hyster continues to produce an assortment of lift truck models that move all types of materials quickly, efficiently, and safely. 
Hyster manufactures high-performing cushion tire ICE forklifts designed for indoor material handling applications or use in other work areas with smooth, flat surfaces. Choose from several models with lift capacities ranging from 3,000 pounds to 15,000 pounds. If you need a forklift that can handle the challenges of working outdoors, the extensive lineup of Hyster pneumatic tire models can navigate uneven terrain while minimizing bumping and shaking. Available lift capacities run from 4,000 pounds to 19,000 pounds. 
Our Yale ICE Forklifts for Sale
Yale has been providing uplifting solutions to businesses in a wide range of industries since 1875. The company offers everything from traditional lift truck equipment that can accommodate basic but essential material handling needs to emerging technologies that will enable your crew to perform more productively and efficiently than ever. 
Yale manufactures ICE cushion tire forklifts that perform flawlessly in indoor environments and include numerous comfort and safety features. Select a model with a lift capacity from 3,000 pounds to 15,000 pounds. If you're working outdoors, consider a pneumatic tire version with lifting capabilities ranging from 3,000 pounds to 19,000 pounds. 
Whether you opt for one of our Hyster or Yale ICE forklifts for sale, you'll get an EPA-certified model that meets your performance expectations and allows you to be a good steward of the environment. 
Your Trusted Fleet Management Partner
Once you've purchased your ICE forklift from LiftOne, you'll want it to perform at a high level. You can count on us to help you create a detailed fleet management plan to enable you to optimize your fleet's performance and provide the lowest total cost of ownership to your material handling operation. 
Our comprehensive fleet management process encompasses the following steps:
Gathering data in crucial areas such as equipment utilization, application and operating environment 
 Recommending a maintenance plan to maximize your budget and fleet's life span 
Identifying and evaluating to find the lowest total cost of ownership 
Utilizing the latest technologies to help you get more out of your equipment
Training your operators to use the equipment safely, in compliance with OSHA regulations
Our Expert Technicians Are Ready to Help
When it's time for maintenance or repairs on your fleet, you can count on LiftOne to handle the task quickly and efficiently. Our team of more than 400 trained, experienced technicians can take care of everything from routine, planned maintenance to extensive engine work. We also carry all the replacement parts you'll need to keep your Hyster and Yale forklifts on the job. 
Used and Rental ICE Forklifts
If your not ready to buy new equipment, LiftOne has more than 3,000 industrial forklifts for rent as well a total equipment line up of used equipment. We have the equipment you need, tailored to your budgetary requirements. Whether a short or long-term rental, we have your internal combustion forklift equipment, in either cushion or pneumatic tire, available today.
Learn More About Our Fleet of ICE Forklifts for Sale
For more information about our fleet of EPA-compliant Hyster and Yale forklifts, give us a call at 704-588-1300  Monday through Friday between 8 a.m. and 5 p.m. You can also contact us online.