How the Combilift C-Series Can Improve Your Sustainability Efforts
Every operation is faced with the daunting challenge of doing more with less while using tools that are efficient and effective for the task at hand, yet friendly for the environment. The Combilift C-Series answers the challenge by providing a versatile forklift to accomplish your fulfillment tasks in a sustainable way – both for the environment and your bottom line.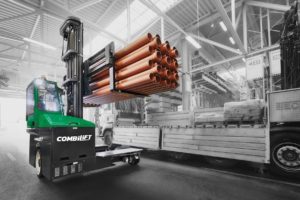 Doing More With Less - Sustainably
The Combilift C-Series range incorporates the functionality of three different forklifts in one. The C-Series can be used as a side loader, a counterbalance truck, and a narrow aisle forklift – enabling you to reduce your fleet size substantially. By reducing the need to switch to different trucks for various tasks, the Combilift C-Series enhances the productivity of your operation. Furthermore, less trucks means less carbon emissions, making your operations more environmentally friendly.
Storage Optimization
Traditional forklifts that cannot transport long loads in narrow aisles can lead to underutilized warehouse space, and ultimately inefficient operations and an increased carbon footprint. The unique design of the C-Series allows the forklift to travel sideways and operate in a consistent aisle no matter the length of the product, while its multidirectional operation gives it the versatility to transport loads through doorways as narrow as 110 inches. The weight of the truck is integrated into the machine's chassis allowing it to be much narrower than a traditional forklift. This sophisticated engineering allows users to maximize their warehouse and storage capacity – by as much as 100%! The combination of a maximized warehouse and efficient trip/load management results in increased productivity and a reduced carbon footprint.
C-Series – It's Electric!
The Combilift C-Series offers several different models suitable for all preferences, needs and applications. Not only does the sophisticated engineering of the C-Series allow for performance versatility, but can also be powered in an environmentally conscious way. The Combilift C-Series can be powered through electric, LPG or diesel. Electric-powered trucks are built to provide optimum performance with minimum energy consumption, all while eliminating CO2 emissions and reducing the greenhouse gases in your warehouse.
Improving Your Uptime and Protecting Our Planet
The LiftOne team is ready to help you integrate these efficient, environmentally friendly solutions into your operation. Our experienced team of material handling experts can help you outfit your operation for success. Contact us today to learn how you can increase your productivity while reducing your operation's impact on the environment.