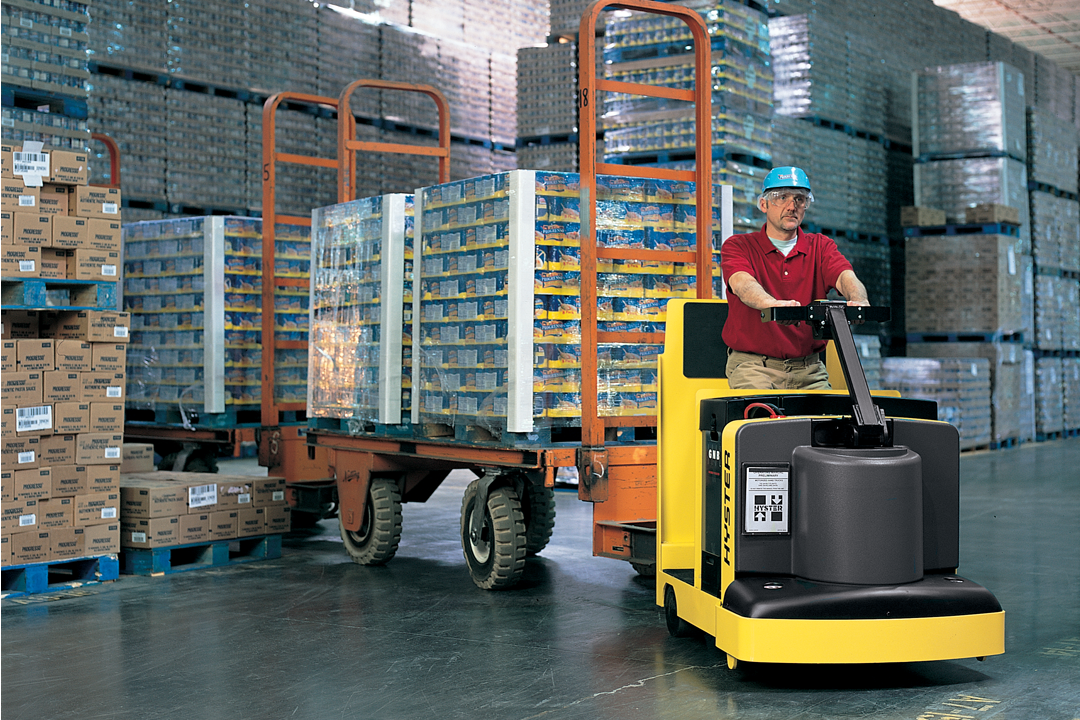 You need an exceptional amount of power and strength to maintain operational efficiency in warehouse applications. Many warehousing industry leaders expedite their operations with the help of tow tractors and burden carriers. So just what is a tow tractor? How can this piece of equipment benefit your business?
What Is a Tow Tractor?
The definition of a tow tractor is a vehicle designed to pull other vehicles or equipment behind it. Some of the toughest tow tractors are capable of handling extremely heavy loads. They're maneuverable, compact, cost less to own and operate, which makes them well-suited for more complex applications.
While different tow tractors have unique sizes and specifications, most are equipped to travel long distances with their loads. They're also comfortable and easy to use, simplifying the material moving process for operators in the workplace.
Tow Tractor Applications
If you own a tow tractor, you can take on a wide range of warehouse applications. This piece of equipment travels on hard and even floors, so it's the perfect solution for efficient ground-level transportation.
Warehouse operators use tow tractors to tow trailers and wagons around their facilities. Because warehouses are typically large and filled with stocked-up rows of racking, a tow tractor makes it easier for operators to transport other equipment and materials from place to place.
Whether you have products that are ready to be shipped out or you're relocating a set of boxes, a tow truck can help you move the items more quickly and safely.
Common Reasons a Business May Need a Tow Tractor
A business may need a tow tractor for a variety of reasons. Some equipment and materials are too big for a person to carry alone. It may also be inefficient to take multiple trips if you're moving large items.
A tow tractor lightens the load and makes it easier for warehouse workers to move boxes and equipment. If you're short on material handling equipment or you're expecting bigger shipments of goods, a burden carrier could be the piece of equipment you need.
Tow tractors can easily be automated with Hyster and Yale Robotic forklifts, allowing you to move more with less manpower.
Renting vs. Buying
At LiftOne, we offer both purchase and rental options for our clients. You may choose to buy or rent depending on your needs. Both options have unique sets of benefits:
Renting: LiftOne Rents offers tow tractors to satisfy your temporary equipment needs. If you have a seasonal need or you're taking on a heavier load than usual, we can provide a rental that will meet your specifications. This lowers maintenance, storage and transportation costs.
Buying: Buying a tow tractor is a long-term investment. By working with a trustworthy dealer, you make the most of your investment while maintaining reasonable costs. A new or used burden carrier can provide ongoing value and reliability in the workplace. It's designed to last, and it requires minimal maintenance so you can use it for any lifting application.
Learn More About LiftOne Tow Tractors
A tow tractor can provide extra support for all your warehouse heavy transportation jobs. Over time, it could prove to be an excellent money-saver for your business.
If you're interested in learning more about warehouse tow tractors and burden carriers, reach out to LiftOne today. You can rely on us to deliver excellent service and a variety of industry-leading brands to meet your operational needs.