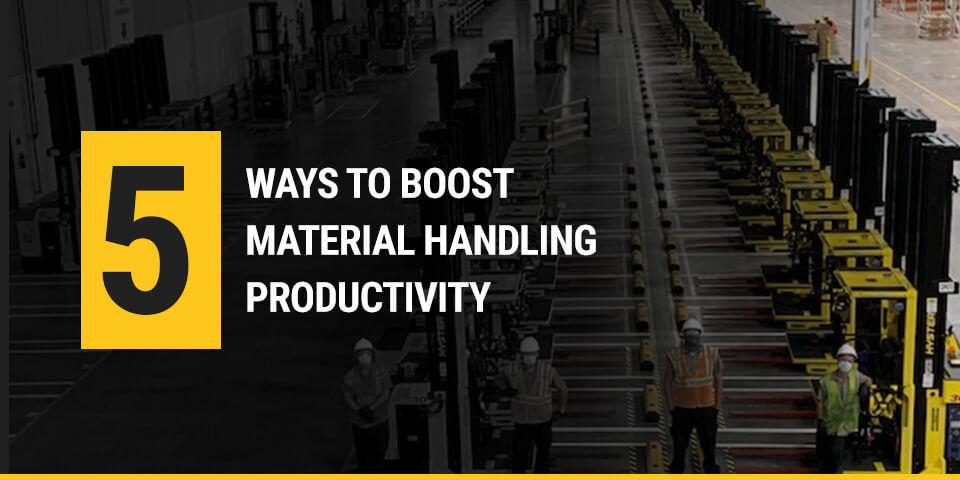 In today's ambitious business environment, companies should utilize every resource available to advance and keep up with competition. Operations need to run efficiently to distribute goods and materials through the warehouse and out the door as quickly as possible.
Many businesses rely on forklifts and other types of material handling equipment in their day-to-day operations. Companies that understand how to utilize equipment efficiently can optimize warehouse productivity and improve overall performance.
Effective Use of Material Handling Equipment for Warehouse Operations
Equipment solutions are available to assist in improving the performance in your facility. It is crucial to effectively use equipment for optimizing warehouse operations and improve overall efficiency. Here are several ways to boost material handling productivity:
1. Choose the Appropriate Lift Equipment for Your Work Environment
Your business has many options to choose from when it comes to lift equipment. The key is finding equipment that is suitable for your warehouse operations.
The first step in finding the right truck is considering factors such as the size of your warehouse, the frequency of operations, and what type of products are being handled. If you're working in tight quarters, going with a narrow-aisle forklift would be beneficial because it provides the maneuverability your operators need to navigate in that type of environment.
Do your workers frequently mount and dismount the equipment when picking orders? A stand-up walkie model can save time compared to a sit-down forklift that requires workers to get up and down repeatedly.
2. Utilize Attachments and Accessories
Forklift attachments are designed to increase functionality, improve equipment performance, and fit a variety of forklift models. These optional features range from fork-tip lasers that enable operators to engage pallets more precisely and confidently to side shifters that allow quicker fork adjustments when handling loads.
The Occupational Safety and Health Administration (OSHA) has guidelines regarding equipment adaptability in the work environment. In some situations, it is mandatory to add attachments to ensure your forklift follows protocol.
3. Use Robotics for Warehouse Automation
Robotic material handling equipment and automation can improve efficiency by performing repetitive and routine tasks like sorting, packing, and transport. These mundane tasks are normally performed by workers and by implementing automation, their skills can be used in more complex duties. In addition, you will minimize the impact of staffing shortages and human errors.
Robotics can increase productivity by optimizing equipment utilization and integrating seamlessly with your existing operating processes. Technology including conveyors, automated storage and retrieval systems, and robotic picking systems can significantly improve operations.
Lastly, an automated material handling system can reduce floor traffic by establishing a defined pathway for items to move throughout your facility. This decluttering enables workers to access what they need to complete their tasks faster and more efficiently.
4. Emphasize Safety
Creating a safer work environment can increase productivity in several ways. You'll experience fewer workplace mishaps that result in employee injuries or accidents that take equipment off the job for repairs. You'll also increase your warehouse's operating efficiency by streamlining your work processes and removing potentially hazardous steps.
Ensuring your warehouse equipment receives regular inspections and service are important components when optimizing safety. Pre-inspections conducted prior to operating equipment allows you to identify any defects or potential issues before a problem ensues. And preventive maintenance allows you to detect and troubleshoot mechanical issues that could endanger your operators. Furthermore, keeping equipment in good working condition will minimize downtime following unanticipated repairs.
5. Train Your Operators
Training your material handling equipment operators does more than ensure your business complies with the OSHA safety regulations. Instructing your crew gives them a chance to learn how to productively operate the equipment in your fleet. In doing so, they'll discover ways to save time when performing specific tasks and avoid common mistakes that require additional steps that could have been avoided.
LiftOne Can Help Increase Material Handling Productivity
At LiftOne, we help businesses in North Carolina, South Carolina, Tennessee, Alabama and Georgia boost productivity by offering a wide selection of high-quality material handling equipment for sale and rent. We also offer a host of support services, including repairs, maintenance and training to enable you to optimize your fleet's performance.
Contact us for more information today to discuss our solutions.