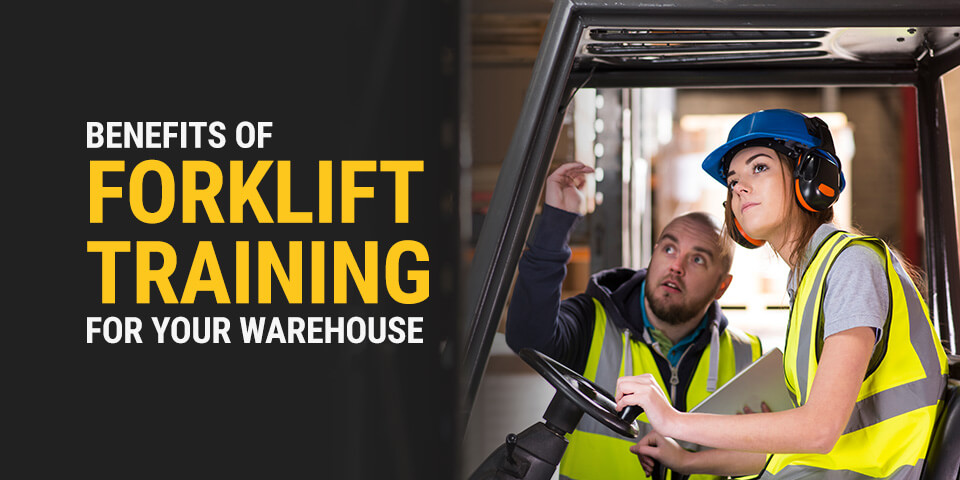 Your warehouse operators must be trained and certified to use forklifts per the Occupational Safety and Health Administration (OSHA). In addition to this requirement, continual forklift training teaches your employees how to operator lift trucks safely, productively and helps reduce workplace accidents. Learning about the advantages of training helps you understand why it is so important.
Here are five benefits of forklift training for warehouses:
1. Improved Safety
In 2020, a total of 7,290 incidents resulted in injuries from a forklift. Often, operators that do not understand the hazards of the equipment they're operating are at a greater risk of causing accidents to personnel or property.
One of the benefits of proper training is that comprehensive programs teach operators the difference between an automobile and their lift truck, stability and safe handling. They learn the protocols for operation in the employer's environments and/or with nearby pedestrians.
2. Increased Alignment With Compliance Regulations
OSHA mandates that employees must be over 18 years of age and properly certified by the employer to operate a forklift. If your organization fails to meet these standards, you could face significant fines and penalties. LiftOne's training programs follow OSHA guidelines, preparing your employees to maintain compliance.
3. Enhanced Efficiency
Another benefit of forklift safety training is improved efficiency. Training makes employees feel confident in the equipment they're assigned to use and empowered to complete tasks, safely. The more competent they become, the more engaged and productive they become at work. Operators with proper training are less likely to make time-consuming mistakes, improving efficiency for your entire warehouse.
4. Increased Forklift Life Expectancy
Training programs prepare forklift operators to use equipment correctly. This starts with a proper inspection of each unit and understanding how and when to report deficient items. They also learn to operate with control which should reduce incidents and wear on your fleet.  This in turn will mean less maintenance and unexpected repair needs, extending your equipment's life span.
5. Saves Money
Operators that are not competent may damage goods and present a hazard to other employees while working. Employees that are well-versed in forklift operation are less likely to pose a risk to personnel, inventory and facilities, leading to lower costs and better running equipment, saving your bottom line.
Learn More About Training Programs From LiftOne
If you need thorough training programs for employees, explore LiftOne's options today. We offer training for operators and trainers, customized to match your organization's specific equipment. Our programs help you maintain OSHA compliance and give you the tools to keep employees safe and efficient. We also provide additional resources employees can reference at any time.
To learn more about LiftOne training opportunities and the benefits of forklift certification, contact our training department.