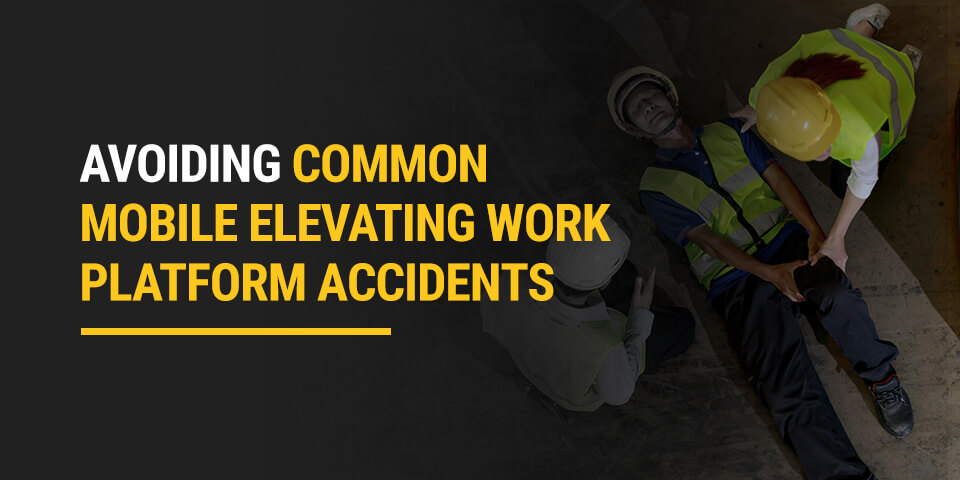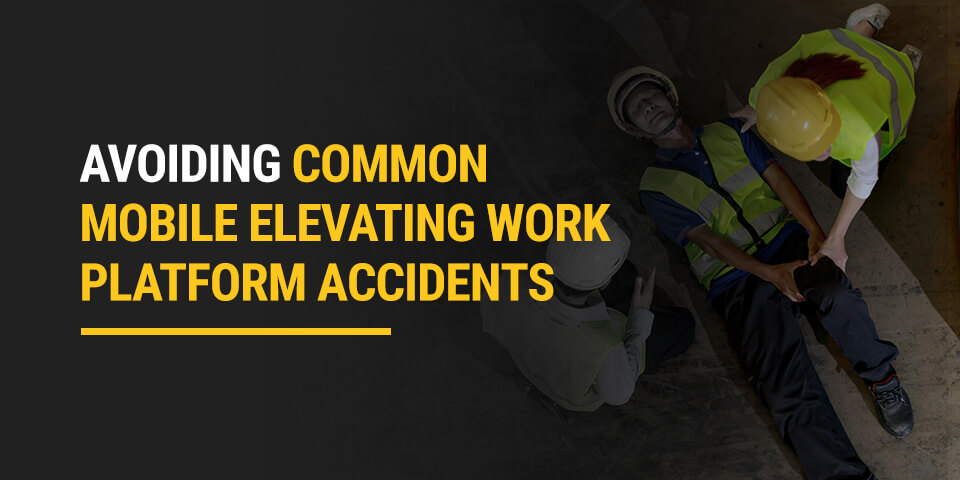 Mobile Elevating Work Platforms, also referred to as boom lifts, scissor lifts, MEWPs and formerly Aerial Work Platforms, are used in construction, maintenance, and repair work and enable crews to perform tasks at greater heights. If not used properly, lift equipment can be hazardous. While JLG, Genie, and other leading manufacturers incorporate advanced safety features when designing their equipment, on-the-job accidents can still occur.
The Occupational Safety and Health Administration (OSHA) lists numerous hazards associated with aerial lift equipment. Examples regarding workers include individuals falling from the platform, being struck by falling objects while on the ground, electrocutions, and coming into contact with other surfaces. Regarding the lift itself, potential hazards include equipment failure and a loss of stability, which could lead to major injury and property damage.
Leading Causes of Common Mobile Elevated Work Platform Accidents
Lift accidents can occur for numerous reasons. The main reasons being operator errors, equipment malfunction, or a combination of both. The following are a few of the most common mistakes and accidents relating to aerial lift equipment.
1. Ignoring Potential Surrounding Hazards
Neglecting to check the work environment or surroundings can lead to detrimental mistakes. Before using the equipment, operators should conduct a pre-use inspection to review the job plan and look for utility lines, overhead hazards, weak supporting surfaces, or heavily trafficked areas. If operating outdoors, verify weather conditions will not adversely effect the MEWP.
2. Improper Training
Most mistakes involving aerial lift equipment occur because operators have not received adequate training. Workers cannot legally operate this equipment without meeting OSHA and ANSI certification standards. Periodic retraining may be necessary to refresh crews on safe practices if operators have not operated for an extended time.
3. Failing to Properly Inspect Equipment
Mobile Elevating Work Platforms require a pre-start or pre-use inspections before operation, which varies from other equipment inspection standards. Because these machines are responsible for lifting people, the inspection before each use must come from the manufacturer's operator manual.
Common inspection points include ensuring decals are legible, there are no dents in the platform rails, and hydraulic hoses are free from damage. If the lift cannot pass inspection, it should be removed from service until proper repairs can be completed. Consider auditing your operators' inspections to ensure accuracy.
4. Lack of Proper Fall Protection Equipment
Falling is a constant risk with any work at height. To minimize the risk of a lift-related accident, companies must enforce proper safety guidelines and make sure their workers are always wearing the appropriate gear.
When operating a scissor lift, fall protection is strongly encouraged. When using a boom lift, it is required. If operators will have a fall distance less than nineteen feet, companies must require fall restraint systems be used. If exiting the platform at height, operators may need two lanyards to ensure they are continually protected. Companies should ensure all personnel tie off to designated anchor points.
5. Poor Maintenance Practices
Mobile Elevating Work Platform owners are responsible for completing annual and frequent inspections with a qualified technician to keep equipment in top shape. Operators must verify that this inspection has been completed before starting their pre-start/pre-use inspection.
These inspections may highlight poor maintenance practices that could lead to equipment failure. Other items found may include improper repairs completed by unqualified personnel. If discovered, companies must remove the equipment from service until each item has been addressed. OSHA regulations prohibit employers from forcing workers to operate unsafe equipment. Employers are expected to follow OSHA guidelines and create a safe environment. Thoroughly checking the lift before use and identifying issues that could develop into hazardous situations are vital steps in the pre-use inspection.
Turn to LiftOne for Your Mobile Elevating Work Platform Service Needs
Do you operate a business in North Carolina, South Carolina, Tennessee, Alabama, or Georgia that relies on lift equipment? LiftOne is a full-service dealer you can trust to help you create a safer and more productive work environment.
Besides selling and renting equipment from leading manufacturers, we offer expert repair and maintenance services to keep them on the job. We also provide OSHA-compliant training designed to prepare your operators and trainers to safely work alongside your equipment.
Contact us to learn more today.