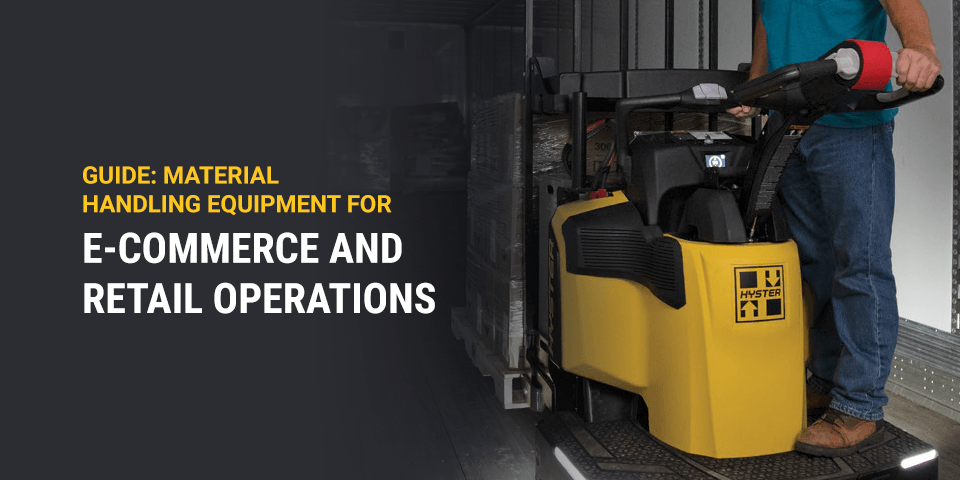 The rise of e-commerce titans like eBay and Amazon has led to an increase in consumer demands and expectations, resulting in the explosion of productivity and speed improvements in the warehousing industry. Technological advancements in automation and integrated technology for e-commerce and retail warehouses are revolutionizing how companies rethink design and warehouse layouts.
The LiftOne experts in material handling and warehouse solutions understand what you need to run a successful operation in this industry. This guide will walk you through essential retail warehouse equipment functions and how they can help you overcome common logistics issues.
Essential Retail Warehouse Equipment
Managing a 21st-century warehouse at peak efficiency can be easy with the right equipment. This list describes some of the offerings from LiftOne that you might need for a productive workplace:
Challenges and Considerations for e-Commerce Warehouse Processes
There are many complex challenges to optimizing a warehouse for e-commerce storage needs so you can process orders with speed and accuracy. Thankfully, the advanced technology afforded by modern retail warehouse solutions can help you overcome virtually any obstacle by providing:
Maneuverability: Your warehouse layout determines what equipment can maneuver within it. Forklifts must balance narrow width with a properly weighted counterbalance for operator safety. VNA equipment is built to suit this purpose and maintain its balance while rushing through small spaces. 
Quicker fulfillment: The influence of large internet companies like Amazon and Walmart has increased customer expectations for rapid delivery times. You need equipment that can move inside and outside seamlessly, with quick opportunity charging and consistent power delivery. Lithium-ion charged lift trucks are perfect for this rapid process.  
Lower staffing needs: As labor shortages occur, you need a solution to keep products moving. Robotic forklifts can safely handle repetitive tasks so you can focus on hiring workers for the tasks that count. 
Easier picking process: The wave picking, batch picking and zone picking methods all require different equipment shapes and widths as well as carrying capacities. You may want to reconsider the types of trucks utilized throughout the picking process and automate parts with robotics.  


Find a LiftOne Dealer Near You for Retail Warehouse Equipment Solutions
LiftOne is a family-owned business with almost one hundred years of material handling and warehouse solutions experience in the Southeast. We're a full-service material handling equipment provider with numerous convenient locations and a focused vision for serving as your trusted partner.
Ready to find your equipment solution? Search for the location nearest you or contact us online to connect with our team today.