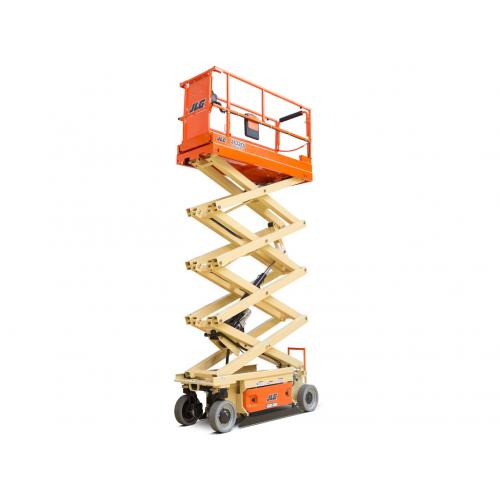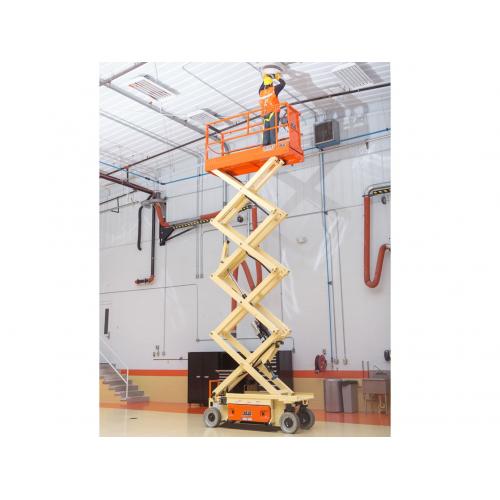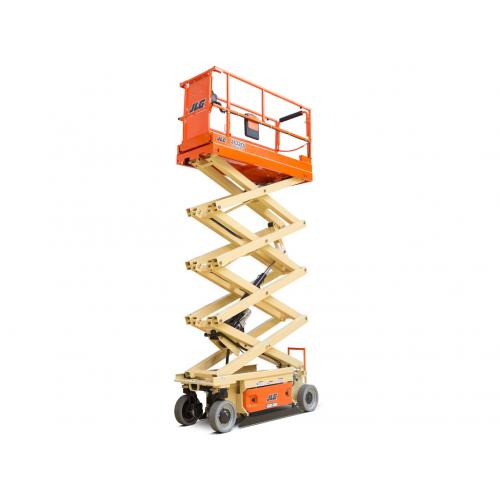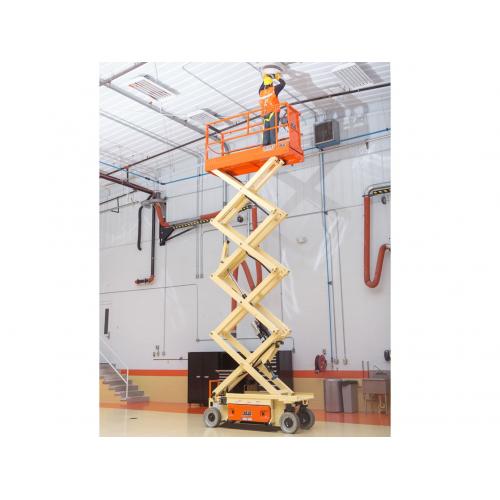 Details
Quieter, cleaner operation for a variety of environments
Electric drive and integrated components with only two hydraulic hoses and four hydraulic fittings on the entire machine will keep you on the job longer and reduce your operating costs by reducing chances for leaks and service calls
Narrow width fits through most standard doorways and tight aisles
Delivers 200% more battery life*


*Compared to a competitive model under similar test conditions. Actual results may vary.
Power Source
Batteries
4 x 6V, 220 amp-hour
Charger
20 amp automatic
General
Brakes
Electric, Friction
Capacity Hydraulic Reservoir
1 gal. / 4.73 L
Hydraulic Pump
Fixed Displacement Gear
Machine Weight
4635 lb / 2102.40 kg
Performance
Drive Speed Platform Elevated
0.50 mph / 0.80 km/h
Drive Speed Platform Lowered
2.75 mph / 4.43 km/h
Drive System
24V Electric
Gradeability
25 %
Lift Time
33 sec.
Lower Time
37 sec.
Maximum Drive Height
25 ft 6 in. / 7.77 m
Platform Capacity Extension
250 lb / 113.40 kg
Platform Capacity Restricted
800 lb / 362.87 kg
Platform Capacity Unrestricted
500 lb / 226.80 kg
Turning Radius Inside
0 in. / 0 mm
Turning Radius Outside
6 ft 9 in. / 2.06 m
Dimensional Data
Ground Clearance
4 in. / 0.09 m
Machine Height
7 ft 8 in. / 2.33 m
Machine Height Rails Folded
6 ft 5 in. / 1.94 m
Machine Length
7 ft 7 in. / 2.3 m
Machine Width
2 ft 8 in. / 0.81 m
Platform Dimension A
2 ft 6 in. / 0.76 m
Platform Dimension B
7 ft 7 in. / 2.3 m
Platform Extension Length
3 ft / 0.9 m
Platform Height
25 ft 6 in. / 7.77 m
Platform Height Lowered
4 ft 1 in. / 1.23 m
Platform Railing Height
3 ft 7 in. / 1.1 m
Tire Size
16 X 5 in
Wheelbase
6 ft 2 in. / 1.88 m
Reach Specifications
Platform Height
25 ft 6 in. / 7.77 m
Working Height
31 ft 6 in. / 9.6 m
Contact Dealer For Pricing