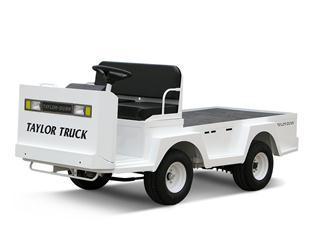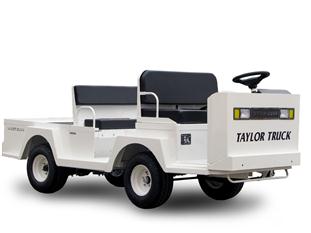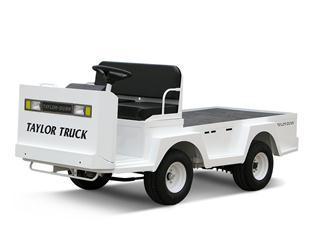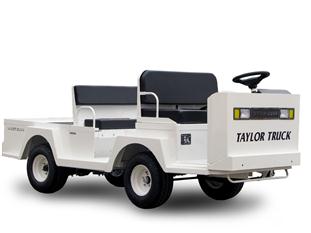 Description
The T-48 GT is one of the first electric utility vehicles that can compete with gasoline vehicles performance in outdoor applications.
Model
T-48 GT
Type
Electric
Speed
18 mph (28.9 km/h
Range
30 Miles (48 km)
Load Capacity
3,000 lbs. (1360 kgs)
Tow Capacity
10,000 lbs. (4,536 KG)
People
2
Description
This vehicle operates at 18 mph and can carry loads up to 3,000 lbs. Specifically designed to meet rugged outdoor applications, the T-48 GT is equipped with a 48 volt drive train that travels up to 30 miles in a single charge. Taylor-Dunn's GT drive system provides hill climbing ability and acceleration while carrying heavy cargo during daily applications.
Options
Charger

– Portable 25 amp charger or 40 amp charger

– Built in 110V/220V 50 Hz.
Accessories

– Strobe light, amber – on pole, or top of cab

– Directional signals
Deck

– Stake sides, removable end gate, 14" high

– 96 inch bed length (extended wheel base)

– Welding tank cutouts

– Steel sides and end gates, fold down

– Steel panel cargo box, with locking doors
Battery Compartment

– 244 a.h. batteries

– Lift out/roll out battery box

– 72 volt battery option

– Built in dual battery pack

– Battery watering system
Hitches

– Automatic coupling, (trailer)

– Pintle (trailer)

– 1 7/8 ball and bracket
Cab

– Steel cab, doors & safety glass windows

– Fiberglass cab & vinyl doors

– Mirrors – left, right and rear

– Windshield wiper
Top Frames

– Fiberglass or surrey top cover with tubular frame
Frame

– Fixed second seat,

– Fold down 2nd seat
Color

– Yellow, orange, or special paint color

– Undercoating
Performance
Speed
18 mph (28.9 km/h
Range
30 Miles (48 km)
Load Capacity
3,000 lbs. (1360 kgs)
Tow Capacity
10,000 lbs. (4,536 KG)
Passengers
2
Dimensions
Weight
1900 lbs. (930 kgs)
Length
128″ (325.1cm)
Width
50″ (127.0cm)
Height
Less Cab: 48.5″ (123.2cm) With Cab: 76″ (193.0cm)
Hitch Height
16.5″ (41.9cm)
Outside Turn Radius
145″ (368.3cm)
Wheel Base
51.25″ (130.2cm)
Deck
Width: 41.5″ (105.4cm) Length: 75.25″ (191.1cm) Height: 29.25″ (74.3cm)
Chassis
Interior