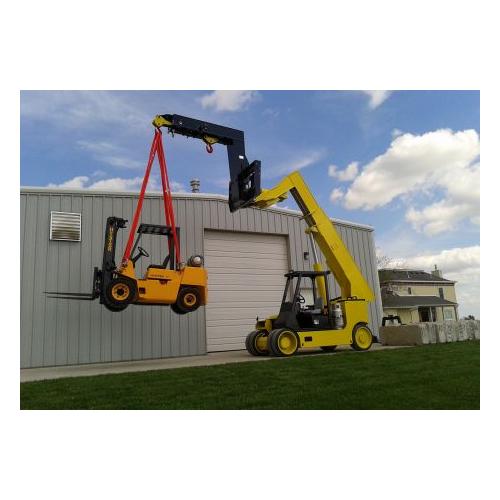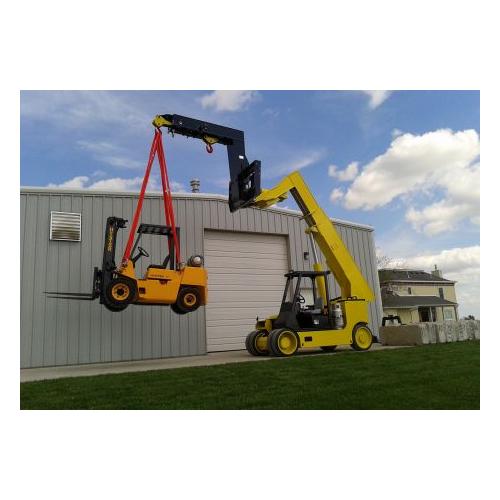 Description
Description: The PT40 is designed specifically to meet the needs of the experts in the machinery moving and rigging industry, its compact size and impressive capabilities also make it an excellent choice for moving heavy loads in manufacturing and heavy industrial applications. The PT40 has an impressive lift capability of 20 tons to a height of 20 feet.
Transmission: The Sauer hydrostatic drive is controlled by an adjustable foot treadle for variable 0-6 mph, forward or reverse travel. The large hydrostatic pump and deep-reduction planetary wheel hubs generate 20,000 pounds of tractive effort and will propel a 40,000 pound load up a 24% grade.
Hydraulics: At the heart of the PT40 is its intelligent hydraulic system. The pump is load-sensing and pressure-compensating with the ability to limit horsepower accordingly. This allows higher pump flows at lower pressure, or conversely, higher pressures without stalling the engine. The control valves are custom manifolds with industry standard cartridge valves to greatly minimize hoses, adapters, leaks and clutter. All the working elements of the valves are externally mounted on the manifolds, so there should never be the need to remove the entire valve for diagnosis or repair. And because cleaner oil is always better, the PT40 uses a 3 micron return filter and a pressurized reservoir to minimize outside air and moisture from entering the system.
Wireless Remote Control: All PT40 drive and lift functions can be controlled via wireless transmitter, allowing a single operator to observe the entire work environment without being confined to the operator's station.
7 inch color LCD display: All gauges and load position information are displayed on the monitor, which also allows access to diagnostic tools on all hardware components.
Removable counterweight: Two outer counterweights each weigh 4,350 pounds; the central counterweight weighs 3,200 pounds. Removing all three counterweights results in a 25,000 pound empty weight with a 20,000 pound capacity (24� load center).
Quality: At Landoll Corporation our mission is to provide unsurpassed quality and workmanship on every Precision Telehandler PT40 we build. We want the PT40 to be the finest machine in your fleet.
Specs
STANDARD EQUIPMENT
Engine: GM 3.0L 91hp at 3000rpm
Engine: 166 ft lbs at 1400 rpm
Transmission: Hydrostatic, 0-6mph infinitely variable
Hydraulic System: Load sensing, pressure compensated
Hyd. Filtration: 3 micron synthetic element
Electrical: Sealed IP66 Minimum
Tires: 28x10x22, front duals, rear singles
Gradeability: 24% with 40,000 pound load
Tractive Effort: 20,000 pounds