3 Spring Maintenance Tips for Your Lifts
As the weather changes and you start to get your fleet ready for spring, there are some steps you should follow to ensure your equipment is prepared. Taking proper care of your lifts each year ensures you get maximum productivity, improves safety and increases life of your equipment. Follow this simple forklift repair checklist and contact our service team to schedule a maintenance appointment.
1. Perform Inspections
One of the first things you should do when preparing your lift for spring is inspect all the internal and external components. It's essential to ensure your forklift's key systems are all in working condition to minimize unscheduled downtime. Start your forklift maintenance checklist by topping off fluid tanks, confirming that your tires are not worn to the safety line, and inspecting these other areas for damage, loose connections or other issues:
Batteries
Wires
Cables
Spark plugs
Hoses
Valves
Fans and fan belts
Thermostat
Hydraulic systems and pumps
Radiator screen
Air intake system
Steering wheel
You can look at many of these things manually and report to your local service provider for a more in-depth exam if something is awry.
2. Clean Your Lift
During the winter, a lift can become dirty or gather buildup that could lead to potential issues, so taking the time to clean your fleet can help keep your equipment in good condition. Much like with inspections, there are some things you can clean yourself, such as exterior buildup like dust. You will want your forklift to be seen by a professional in other cases.
Be sure to wipe dirt and debris off your forklift regularly, but it's wise to give it a deeper clean at the start and end of the busy season. Be sure to periodically blow out the radiator to get rid of any dirt or other buildup. If you notice corrosion anywhere, you'll likely want to take the lift to a professional for a more in-depth evaluation.
3. Get Your Forklift Serviced
While there are certain things you can check and take care of on your own, having your lifts inspected by a trained technician will ensure your equipment is running at peak performance. These technicians can perform official inspections, including safety checks, replace fluids, and repair or replace broken and worn components. Performing regular planned maintenance service will help keep your lift in the best operating conditions, minimize downtime and reduce your overall costs to your material handling fleet.
Repair services, oil changes and official inspections tell you about the life and condition of your equipment, allowing you greater insight into how it runs, ways you can prolong its life and when to invest in a new one.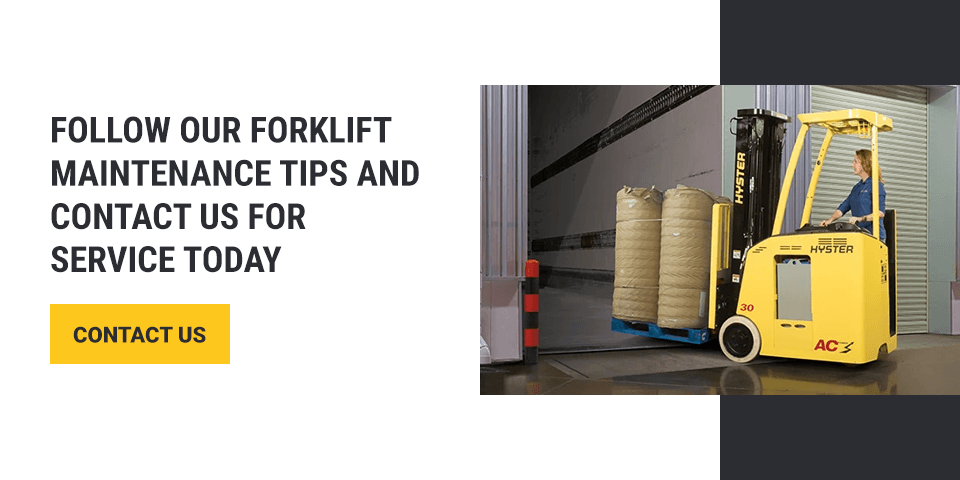 Follow Our Forklift Maintenance Tips and Contact Us for Maintenance Today
Be sure to keep these spring equipment maintenance tips in mind when you start prepping your forklifts for use this season, and feel free to request a service visit by our factory-trained technicians.