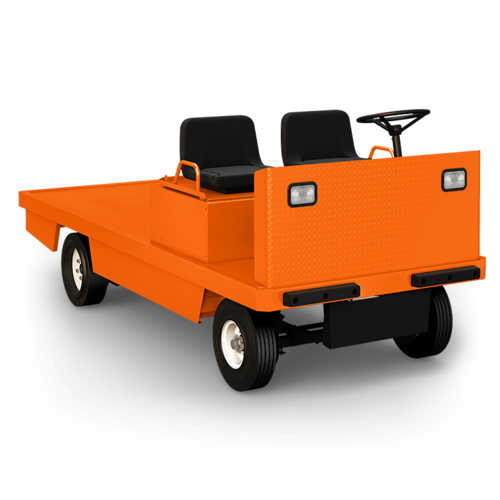 Overview
The MC-660 is the ideal carrier for long and heavy loads of up to 15,000 lbs.*-even over long distances. Its fully customizable modular design features a low, long flatbed cargo deck and powerful four-wheel drive. Also available in unlimited configurations including our cab option, or with the single seat and half-cowl for full-length deck space on the right side. A rugged, multi-purpose vehicle offering safe and dependable performance, even when handling the heaviest loads.
Overview
Passengers
2
Load Capacity
2,000 lbs.
Towing Capacity
6,000 lbs.
Speed
15 mph
Turning Radius
150″
Powertrain
Drive Axle
Dual hydraulic wheel motors
Transmission
Hydrostatic pump
Energy
Chassis
Body
12-G plate steel, 2×4 tubular frame
Suspension
Front and rear leaf spring with shock absorber suspensions
Brakes
4-wheel hydraulic discs brakes, hand lever parking brake
Wheels
5.7×8 LRB pneumatic tires
Steering
Automotive steering wheel
Seats
Two bucket seats on slide adjusters
Equipment
Lights
Dual headlights, dual tail/brake lights
Indicators
Fuel gauge
Accessories
Horn, reverse alarm, neutral start switch
Safety
Seat switch, neutral start switch, oil sentry, automatic engine shut down, reverse alarm
Vehicle
Weight
1,500 lbs.
Height
53″
Length
130″
Width
54″
Ground Clearance
77″
Hitch Height
23″
Deck
Deck Height
54″
Battery
Details
Equipment Type

Burden Carriers / Industrial Vehicles
---