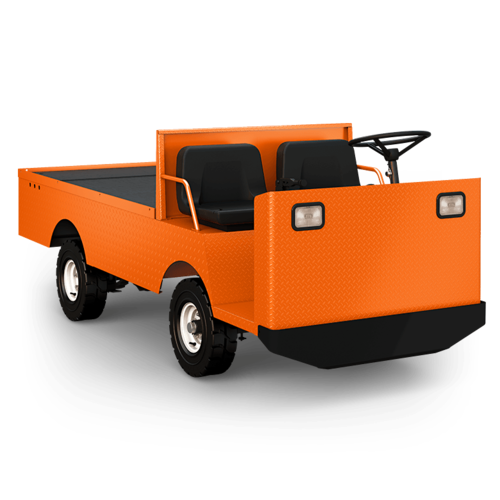 Overview
The MC-360 is our most versatile multi-passenger burden carrier. This durable, low-maintenance work truck easily hauls heavy loads over long distances, and can be equipped with decks of up to 96″ to further reduce the number of trips per shift. Its short turning radius and well-balanced design with rear batteries ensure superior maneuverability, traction and braking for greater safety. Standard features include bolt-on front bumper and all-steel unibody construction. A UL-approved vehicle with unlimited configurations.
Overview
Passengers
2
Load Capacity
2,000 lbs.
Turning Radius
124″
Powertrain
Drive Axle
Rear differential with bevel gears
Transmission
CVT belt drive, F/N/R helical gears
Energy
Chassis
Body
14-G diamond-plate steel body, tubular frame
Suspension
Front and rear leaf spring with shock absorber suspensions
Brakes
Hydraulic, front discs, rear drums, hand lever parking brake
Wheels
5.7×8 LRB pneumatic tires
Steering
Automotive steering wheel
Seats
Two bucket seats on slide adjusters
Equipment
Lights
Dual headlights, dual tail/brake lights
Indicators
Fuel gauge
Accessories
Neutral start switch, bolt-on front bumper
Safety
Seat switch, neutral start switch, oil sentry, automatic engine shut down, reverse alarm, horn
Vehicle
Weight
1,400 lbs.
Height
46″
Length
120″
Width
44″
Ground Clearance
60″
Hitch Height
27″
Deck
Deck Height
44″
Battery
Details
Equipment Type

Burden Carriers / Industrial Vehicles
---