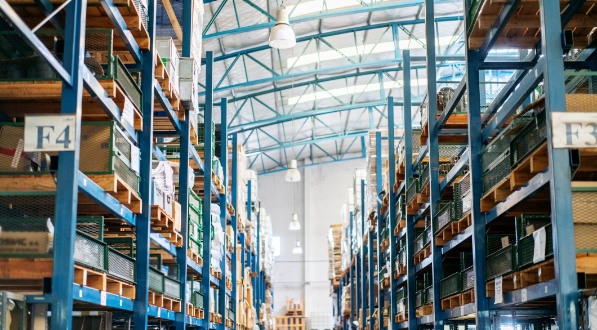 When you manage a warehouse, optimizing everyday operations is vital for your success. Warehouse planning and cost reduction are necessary steps for streamlining these essential procedures. When implementing warehouse improvement processes into your facility, you can increase productivity, minimize downtime and ultimately boost your warehouse's return on investment (ROI).
5 Tips for Implementing New Warehouse Improvement Processes in Your Warehouse
Improving warehouse efficiency and ROI is ultimately a matter of streamlining your planning and operations. If you're looking to optimize your warehousing procedures, it's a good rule of thumb to:
Introduce automation: An excellent way to minimize human error in the warehouse is to implement automation technologies like robotic forklifts and automated storage and retrieval systems. These solutions boost warehouse ROI by reducing labor and operating costs while improving overall accuracy on the job site.
Utilize the right power source: By using the right motive power for your material handling equipment you can maximize operator's shifts with consistent power delivery, opportunity charging and minimal facility footprint, meaning more space for product.
Maximize available space: You can improve warehouse efficiency by taking advantage of your building's height with vertical racking solutions. These systems provide a cost-effective means of expanding warehouse storage capabilities and freeing up space.
Integrate warehouse management software (WMS): Mobile WMS makes warehousing processes more flexible than ever, enabling users to seamlessly manage essential elements like inventory and route planning. You can also monitor your fleet with wireless asset management technologies designed to improve safety, performance and cost-efficiency.
Consider product velocity: It's vital to understand product velocity to maximize storage, retrieval and shipping in your warehouse. You should store high-velocity items in easy-to-access areas while moving seasonal products onto higher shelves.
Have a fleet maintenance plan: Having regular, planned maintenance on your equipment will help maintain the life of your fleet. By knowing when equipment is scheduled for maintenance, you'll have the equipment you need, when you need it.
5 Benefits of Streamlining Your Supply Chain Process
Improving your warehousing operations and procedures means experiencing all the advantages of greater warehouse planning and cost reduction, including:
Increasing productivity: When you optimize your warehouse processes to reflect your company's needs, everyday operations become smoother and more efficient, resulting in greater productivity
Reducing costs: By improving warehousing elements like logistics, processes and delivery, you can better control and manage infrastructure and overhead costs. Having a fleet maintenance plan will allow you to budget fleet expenses by knowing your maintenance costs upfront, minimizing unexpected surprises.
Utilizing space efficiently: With better floor space utilization, you can increase space savings, promote more effective product placement and movement, and ultimately improve supply chain efficiency.
Keeping up with demands: When your operations are smooth and effective, you can respond to changing market conditions and customer expectations.
Boosting revenue: Enhancing your warehouse planning improves your company's bottom line, increasing cash flow and customer satisfaction.
Improve Warehouse Efficiency With Cutting-Edge Solutions From LiftOne Today
You can boost warehouse ROI and operational efficiency with next-level warehousing solutions and powerful material handling equipment from LiftOne. We've provided our customers with dependable products solutions since our establishment in 1926, making us industry experts that clients can trust. We perform every sale and service with an emphasis on detail, positivity and continuous improvement.
For more information on our warehouse solutions, fill out a contact form or find a LiftOne location near you today!