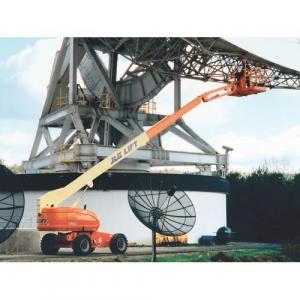 Whether you're looking for a new or used aerial lift or an aerial lift rental for your shorter-term project, it's crucial to know the requirements of the job – and your equipment – before you invest.
Jump to Sections:
Different aerial lifts serve diverse purposes, from accessing hard-to-reach places to increasing warehouse inventory management efficiency; your project will determine which lift will best serve your purposes. Read on to decide which aerial lift will be perfect for your next job.
Questions to Ask Yourself Before Renting or Buying an Aerial Lift
Is your project indoors or outdoors?
Will you need a heavy-duty lift for rough-terrain, or a compact platform for tight warehouse spaces?
What vertical and horizontal distances will you require of your machine?
What is the total weight your lift will need to hold – including both materials and personnel?
The answers to these questions will inform your equipment-buying process. With these questions answered and your equipment requirements defined, follow our comprehensive buying guide to decide which type of aerial lift is right for your project.
When Should I use a Vertical Mast Lift?
A vertical mast lift is a light-weight, vertical aerial lift that works best in inventory management and stock-picking projects on an even-surfaced warehouse. Vertical mast lifts are light-weight and compact, typically accommodating one operator and handling up to 500 pounds. This means these machines work well for smaller scale warehouses in which heavy load-lifting is not required. This is typically the lowest cost option when you need to eliminate ladders and scaffolds.
Vertical mast lifts can be electrically self-propelled or manually pushed into position depending on the weight and power your work requires. They can achieve elevated work heights from 15 to 40 feet.
A vertical mast lift is best utilized:
When you're looking to cut costs and increase efficiency in your warehouse inventory management processes
In indoor areas requiring low clearance and minimal emissions
In light-weight, vertical lifting projects on even surfaces
What's the Difference Between an Electric-Powered and Engine-Powered Articulating Boom Lift?
Articulating boom lifts, sometimes referred to as "knuckle booms" for their multiple hinged sections, allow for maneuverability in hard-to-reach worksites. These lifts work well in tight, congested areas in which you need to work around obstacles like overhead conduits and pipes.
In choosing the right lift, consider your emissions requirement; you can choose between engine-powered lifts, which offer substantial power and mobility over rough terrain, and electric articulated boom lifts, which are quiet and sustainable in an even-surfaced, indoor area.
Used an electric-powered articulated boom lift:
On projects that involve hard-to reach areas and congested workspace
In a warehouse with tight corners, confined spaces and there's requirements for little sound disruption
When work height requirements range from 30-45 feet
When inside and don't want poisonous emissions accumulating
Used an engine-powered articulated boom lift:
On outdoor projects where overhead obstructions prevent direct access to your work position
When engine emissions accumulation are not an issue at your worksite
When you have to reach work heights from 40 to over 100 feet elevation
When traveling over rough terrain on a construction worksite or when you require a boom with 4 wheel drive
When Should I Use a Telescopic Boom Lift?
A telescopic boom lift is simpler than an articulating boom in that it's boom has no "knuckle" and merely protrudes out from the base in a straight line. Operators must be able to access the working position directly using lift and telescopic functions. These powerful lifts offer working positions from 40 to well over 100 feet with a maximum lift height to date of 185 feet on the largest models.
Contractors searching for extensive reach and not limited to a tight space will find telescopic booms useful in replacing scaffolding. While not as versatile as the articulating boom lift, these lifts have very high performance in large-scale, outdoor construction projects.
On outdoor job sites requiring larger vertical and horizontal reach distances
When traveling over rough terrain to a construction worksite, or when you require a boom with 4-wheel drive
When you're working from a distance
When you're looking to increase power and speed on your jobsite
As a lower cost option to the articulated boom lift of equal lift height
When Should I Use a Scissor Lift?
Scissor lifts are named for the crisscrossing metal supports that elongate to lift the platform vertically. These sturdy lifts can tackle your warehouse inventory project or your outdoor project on uneven terrain, depending on the power source and model you choose.
Like vertical mast lifts, electric, low-clearance scissor lifts work well in warehouses with even flooring and where low emissions are required; engine-powered scissor lifts can travel across rough, outdoor terrain with 4-wheel drive technology.
Scissor lifts are best suited for:
In jobs that are mostly vertical; some models come equipped with small extension decks
Electric: In low-clearance indoor workspaces that require limited emissions
Engine-powered: In outdoor jobs that require all-terrain transport of equipment and require only vertically raised platforms
With this equipment breakdown and thorough analysis of your project, you can determine the best aerial lift for you. From an electric scissor lift for your low-emissions warehouse project or a 4-wheel drive telescopic boom lift for an expansive construction job, we'll assist with all your aerial lift needs.
LiftOne carries both Genie aerial lifts and JLG aerial lifts; check out our new equipment or used inventory to browse extensive options. Looking for more of a short-term equipment rental? We can help with that, too. Visit one of our convenient locations for further information and help in choosing the best aerial equipment for you.