Three Wheel Electric Forklift Trucks Utilev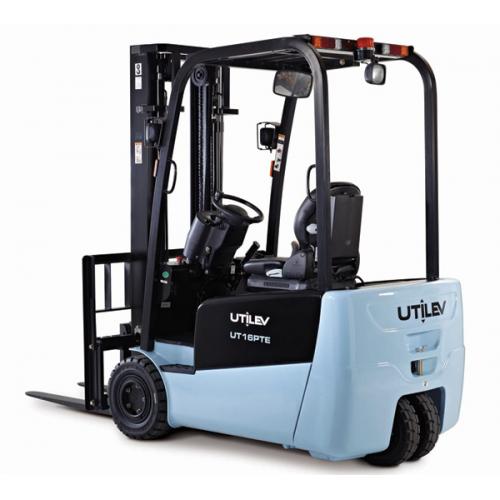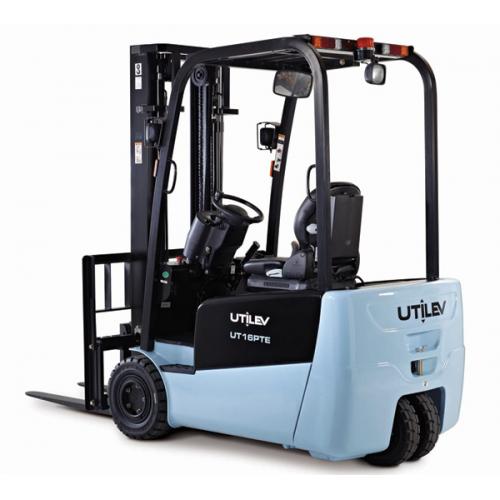 Name
Three Wheel Electric Forklift Trucks
Capacity
3,000 – 4,000 lbs
Overview
UTILEV® trucks deliver a no-nonsense, uncomplicated approach to materials handling. The product range has been designed to be easy to operate and maintain, backed up by a standard warranty and comprehensive parts availability.
Technical Details
48 Volt Electric System
2 Stage LFL Mast 85"/129"/5" with 6° Forward, 6° Back Tilt
39.4" (1000mm) Class II Hook type Carriage
3.9" x 1.6" x 42" (100x40x1070) Class 2 Forks
Overhead Guard
Load Backrest
AC Motors
Wet Disc Brakes
LCD Display
Power steering
3 function manual hydraulic levers
Steer Column Mounted Direction Control
Manual park brake
Power Disconnect – Dash Mounted Button
Pneumatic Shaped Solid (PSS) Tires
Non Suspension Vinyl Seat
Retractable Seatbelt
Adjustable Tilt Steer Column
Steering wheel with Spinner Knob
Rear View Mirror
Key Switch Start
DC to DC Converter (48 to 24 volt)
Lights (24 volt): – 2 Front Work Lights – 2 Front Turn Signals – 2 Rear Combination Lights Brake, Tail, Turn Signal & Reverse
12 Month / 2000 Hour Manufacturer's Warranty (Parts Only)
Operator manual
Options Include: 3 Stage FFL Mast 86"/188"/63", with 3.5° Forward, 5° Back Tilt, 39.4" (1000mm) Class II ISS Carriage, 3.9" x 1.6" x 48" (100x40x1220) Class 2 Forks, 1 Auxiliary Hose Group Internal Mounted, Non Marking PSS Tires, Full Suspension Vinyl Seat, Rear Work Light, Audible Alarm – Reverse Operation, Visible Alarm – Key Switch Operation
Additional Information
Each model features AC Technology drive and hoist motors. A range of front-end equipment options is available to suit varying application requirements. The ergonomically designed operator compartment, with a familiar automotive layout, means that drivers will be able to quickly acclimate to the trucks operation while providing a comfortable productive environment. A range of standard features and options help to ensure that the truck is configured to the needs of the application. Thanks to the simplicity of the components and specification, plus the built-in diagnostics accessed via the dash display, servicing can be carried out quickly and easily, even when PCs, laptops or other diagnostic tools are not available. The use of proven, high quality, robust components, AC Technology, oil-immersed brakes and efficient hydraulics result in reliable operation and lower wear and tear. This together with the fast availability of cost-effective replacement parts helps to reduce service and maintenance requirements and costs.