LPG Cushion Forklift Trucks Utilev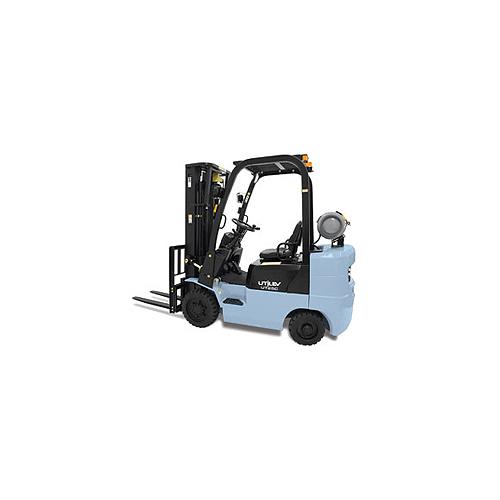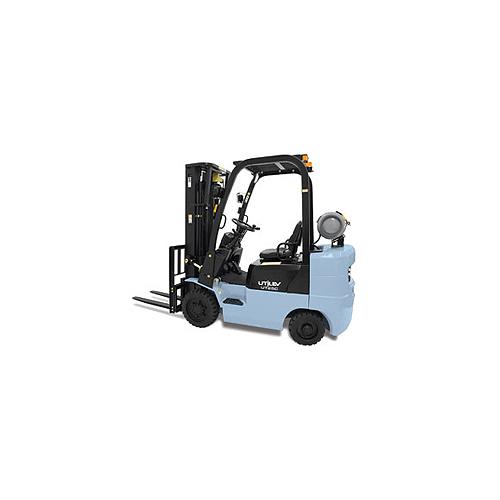 Name
LPG Cushion Forklift Trucks
Capacity
5,000 – 6,000 lbs
Engine
Mazda 2.2L LPG
Transmission
1-speed Powershift
Overview
UTILEV® trucks are available with efficient, quiet, clean-running Mazda LPG/Dual Fuel or Yanmar diesel engines and a Powershift transmission, delivering low noise and vibration levels.
Technical Details
"
UT25-30C: Mazda 2.2L LPG
Transmission: 1-speed Powershift
Masts: 2-stage LFL
Carriages: 42.5" (1080 mm) Class 2 Hook Type – UT25C 43.3" (1100mm) Class 3 Hook Type – UT30C
Forks: 4.8″" x 1.6″" x 42″" (1070 X 122 X 40mm) Class 2 (UT25P) 4.8″" x 1.8″" x 42″" (1070 X 122 X 45mm) Class 3 (UT30C)
Standard Cushion Drive Tires: 21x7x15 (UT25C) or 21x8x15 (UT30C)
Standard Cushion Steer Tires: 16x6x10.5 (UT25C) or 16×6/10.5 (UT30C)
Options include: Integral Sideshift, 3 Way Hose Groups, Full Suspension Seat, Rear Work Light, 48" forks, Various Tire Options
"
Additional Information
Both the drive and steer axles are designed for durability and longevity and efficient cooling and filtration reduces the risk of unplanned downtime – All trucks feature a standard warranty of 12 Months / 2000 Hours. The range of rigid masts provides excellent visibility for precise load handling and is available with a standard carriage, or integral Sideshifting carriage. The operator compartment offers easy driver access, thanks to the low step height and conveniently placed grab handles. The standard seat delivers superior comfort and lumbar support to ensure that the operator can work efficiently throughout the day. The small diameter steering wheel features light, precise steering. The steering column is tilt adjustable for optimum comfort and includes a forward / reverse lever and direction indicator lever. The manual hydraulic controls are cowl-mounted and within easy reach. The uncluttered floor plate offers excellent foot space with a traditional three pedal arrangement, for accelerator, brake and inching. Inching is mechanical and adjustable, delivering precise truck positioning during handling operations. The conventional drum brakes with automatic adjustment provide excellent stopping power. A rear view mirror and a light kit are fitted as standard, to facilitate handling operations.